Accommodation in Spain is excellent and affordable. They have some of the best hotels in Europe. You have the choice of breakfast included in the price which works out much cheaper than paying for it separately and most hotels have very helpful reviews. .
Hotels in Spain
Climate in Spain
Basically Spain has three types of climate corresponding with three general geographical zones:
Temperate pluviose climate in the northwest and north with moderate temperatures and year-round abundant rain;
Arid (locally generated) continental climate of the interior with cold winters, hot dry summers and irregular rainfall, and
Mediterranean climate of the south and east coasts and Andalusian lowlands with mild moist winters and very hot dry summers and sometimes torrential rainfall.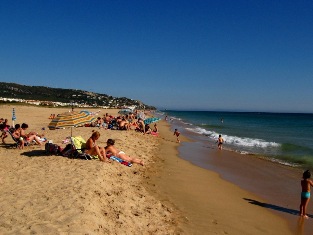 The north coast has an average annual temperature of about 14°C (range about 9°–18°C). Madrid as an example of the interior (where the climate is also sometimes termed "sub-Mediterranean") has an average annual temperature of about 13°C but a seasonal average ranging from 4.4°C (December–January) to 25°C (July–August) with extremes of -10° and 39°C. In Seville (southwestern Spain) the average annual temperature is about 20°C the average seasonal range is 11°–30°C and the extremes -2.7° and 50°C. Valencia on the Mediterranean coast has an average seasonal range of 10° to 25°C.

The rainfall throughout Spain is even more variable. The total annual average rainfall over the entire country is 682 mm but over half of the country has an annual average less than 500 mm and only 20 percent averages more than 1 000 mm per year. Annual rainfall in part of the pluviose northwest coastal region is 1 600 to 2 400 mm. On the central plateau it is about 350–750 mm. In one of the drier areas (southern coast) it is only 150 mm1/.
1/ If one were to set aside the humid northern basin (about 10 percent of the territory but with 22 percent of the rainfall and 42 percent of the surface run-off) one gets about 580 mm of rainfall and 22 percent average run-off for the remaining 90 percent of the country (España Secana)

North of a line extending from Lisbon to Madrid and Tortosa snow falls most winters and the Meseta may have 10 to 30 days of snow. South of this line snowfall is almost unknown on the coast. There is perpetual snow on the high peaks and the highest passes in the Pyrenees are open only four months of the year.
Travel to Granada : Book your room in Granada
Ideally situated only a few minutes away from a magnificent 14 km long beach, Costa Conil are hotels in Conil town. This great location is perfect to discover the breathtaking coastline of Cádiz as well as significant towns such as Sevilla, Jerez de la Frontera or Vejer de la Frontera, among many others.

Stay in one of hotels in Spain

Tourists will find comfortable beach hotels at the perfect place near coast of Costa de la Luz. Thanks to the wonderful location near the endless beaches guests can practice all kind of water sports, and the boiling night life of Costa de la Luz.