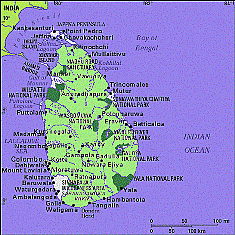 Country of Sri Lanka
The country of Sri Lanka ( Ceylon) has 22 million inhabitants and is approximately big as three Switzerlands. Official there are two languages and inhabitants are unusually young. The average age of inhabitants is 30 years old, the quarter of people are younger than 14 years.
It is interesting that, from Sri Lanka south coast lies 6.000 km of sea and nothing else, so don't swim to far away because you could swim all to Antartica and there you can meet penguins. . Of course we are talking about insular country in Indian ocean – Sri Lanka (Ceylon), the land of monkeys, chili, elephants and black tea.
In Sri Lanka everything is turning around tea. They drink tea instead of coffee, through all day long. Tea is drunk with milk or without milk. They pampered us with delicious tea with milk and a little sugar like we were some kind of colonial Englishman. English people had their own colony all to year 1948, almost 150 years.
Inhabitants of Sri Lanka
What really surprised me in Sri Lanka, were nice and incredibly helpful natives. They all have big smile on the face and they are used to greet people all the time.
Despite devastation of tsunami years ago, they like to talk about of that time. I told one local from coastal town of Tangalla, that I was helping by collecting goods, which we send in Sri Lanka. But in the next moment I was disappointed when I found out that help didn't come to them. Not in form of money not in some other form, which they would need (clothes...). He told me when the big wave came, he climbed on the palm tree, and his family climb on their roof. His sister was at that time in the bathroom highly pregnant, she lost her baby.
Now they have restored their house, and life is normal again. Just with one difference. They live every day by day because they don't know when the sea could stroke again. Their experts are foretelling that they are expecting one bigger tsunami, someday in the future, but they can't say when this big tsunami will come. People are relying on warning devices, they can warn them four hours before destroying wave. In this way they have enough time to go in higher regions. Sri Lanka boy said for himself that, he's not afraid because he is still young and he runs quickly (they don't have a car), but he is worried of his parents.