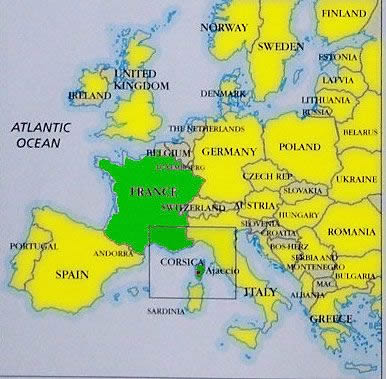 Is it Corsica in France or Italy
It is a interesting thing, but always when we talk about Corsica I have to ask my self: Is it Corsica in France or in Italy? Yeah Island of Corsica is In France but it is closer to the Italy then France. How to? Geographically lies in Mediteranean sea exactly between Tyrrhenian and Ligurian seas.
The island has arround 8600 sq kilometres and arround 260.000 inhabitatnts. It is an interresting thing that almost 100.000 peoples live in two cities - Bastia and Ajaccio. Ajaccio town is the capital, while Bastia is economic centre and main port of Corsica island.
Mountains of Corsica
Corsica is actually island with many mountains. Its highest point is Monte Cintu which is 2710 m high. It's twenty additional mountains are higher then 2000 metre. The mountains run mostly in north - south direction. It's no surprise that the island is often referred as an tropical isle with mountain in the sea.
Walking or hiking on Corsica is the best way to explore the nature of Corsica. The most known long-distance hiking trail is the GR 20 that leads you across the upper mountains, from Calenzana to Conca. This pretty difficult path is one of the most beautiful in the world.
Island of Corsica mesure from north to south about One hundred and eighty kms and about 70 kms from east to west coast. The coastline of island is minimal spoiled coastline of France. In comparison with all the developed shorelines of France, Island's are fairly untainted and covetously guarded.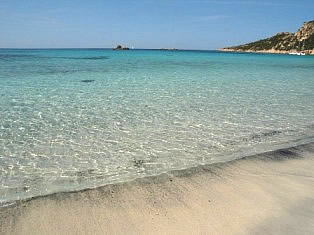 Parks and nature of Corsica
In Corsica you will find more than 2000 of plant species, which made island colorfull. Especial the spring will be dazzle when everything is in bloom and the maquis is at its most fragrant.
The Regional Nature Park of Corsica covers more than two thirds of the island. Five nature reserves protect some unique flora and fauna with the Cerbicale Isles that provide a sanctuary for crested cormorants, the Lavezzi Isles where 68 species of fish have been recorded, the Finocchiarola and Scandola isles that are France's leading land and sea reserve, and the Biguglia Pond where 127 species of aquatic birds nest.
Holidays in Corsica: coast and beaches
From the small isolated Bays among granite rocks on the west coast, to the long sandy beaches between Bastia and Bonifacio that are ideal for family holidays. Corsica is a some kinde of paradise for sunbathers. The of island mesure about 1000 km (600 ++ miles) and offer nice condition and chance for sunbathing from May to October.
All the beaches execpt the main beaches near Calvi, Porto Vecchio and Ajaccio have no lifeguards. You have to be caution when bathing, especially when the wind is strong and the sea is heavy.
Here are some of the most known beaches in Corsica:
Saleccia beach
: white sandy beach accessible only by boat,
Calvi beach:
lively city beach close the town,
Porto:
beach which is very popular by divers,
Porticcio beaches:
long sandy beaches opposite of the Ajaccio town,
Tonnara beach
situated in Golfe de Figari popular to windsurfers,
Iles Lavezi:
beach on the island Lavezi,
Rondinara beach
with camp site: romantic shell shaped beach,
Santa Giulia beach:
sandy beach with pine trees,
Palombaggia beach:
white sandy beach with pink cliffs and pines,
Aleria beaches:
sandy beaches for families