Territory of Italy extends in a form of high booth with heel and nib deep in Mediterranean sea. Between east and west coast of "high booth" raise up mountains of Apennines. The north of Italy is green and fertile with amply lowland of river Po

Where is Italy .
There are also car industry, domestic appliances industry, high fashion and other clothing industry. The industry of south Italy is more agricultural.But the most important to the Italian economy is tourism. You and your friends will enjoy in Italy as a hiker, climber or skier in mountain of northeren cities.

Cultural and historical cities of Italy
You can choose hiking through Italian cultral and historical cities or enjoy coastal southern cities with the Mediterranean Sea and looking for a sun. Rome, Venice, and Florence are the top three destinations for tourism in Italy. Other major tourist locations include Turin, Milan, Naples, Padua, Bologna, Perugia, Genoa, Sicily, Sardinia, and Cinque Terre. Two factors in each of these locations is history and geography. The Roman Empire, middle ages, and renaissance have left many cultural artifacts for the Italian tourist industry to use
World Heritage sites of Italy
Italy is home of forty one UNESCO World Heritage Sites, more than any other country, including many entire cities such as Verona, Siena, Vicenza, San Gimignano, and Urbino.
Italy Tourism
Family-run hotel in Sorrento and surroundings guarantees a warm welcome and a personalised service from its friendly team of multi-lingual staff. Daily trips are organised to Capri, Positano, Amalfi, Ravello, Pompei and Naples. Amalfi coast hotels: The gentle and mild climate favours lingering, leisurely days on the beach or visits to the Amalfi concealed in the frescos, cloisters, the ancient residences of the Medieval Amalfi nobility and amongst narrow alleyways in the historical centre of the town.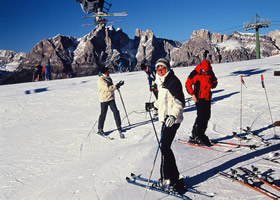 From Roman ruins to the skiing in the Alps
Roman ruins, Renaissance art and skiing in the Alps are just a few of the attractions that draw travelers to Italy. Outdoor enthusiasts can enjoy cycling through Italy, while windsurfing and sailing are extremely popular at the bevy of resorts. Those looking for indoor activities can tour the many museums and galleries of Italy or look for good food at a variety of restaurants.