text by
Lukas Johannes
The Beautiful Beaches of Southern Portugal
Though small and provincial by the standards of many other more cosmopolitan cities, Faro in southern Portugal is one of the most visited regions in the country, due to its rich historical attractions, unique cultural events, natural beauty, and its easy access to nearby areas.
In fact, each year, more and more people come to Faro to visit both the city and its neighbouring areas.
Visiting the city is especially easy due to its proximity to Faro airport. Taxi services are also easily available, which makes it doubly convenient. Among Portugal's most popular attractions are its many (approximately 150) beautiful beaches, which vary from the small sheltered coves to broad, endless stretches of sea-washed sand. Due to their popularity, nearly all the larger beaches engage lifeguards to ensure the safety of their visitors.
They also offer beach amenities and facilities, such as equipment for water sports or sunbeds for sunbathing, and many feature beachside restaurants and snack bars. Many of these beaches have also been categorized as 'accessible' beaches, which means they have complied with strict standards of safety and accessibility for all visitors, including those that are physically challenged.
Listed below are some of the popular beaches accessible from the city. These beaches can become quite crowded during the height of summer so its best to schedule your trips in late spring or early summer.
Praia de Faro
Praia de Faro, a beautiful, sun-drenched beach featuring beautiful golden sand, is mere minutes away from Faro airport. Taxi cabs are quite used to people going straight from the airport to the beach, especially during the first warm spring days when visitors are eager for loads of sunshine. This beach is a popular destination for watersports enthusiasts, such as those who enjoy windsurfing, sailing, and jet-skiing.
Praia Ilha de Tavira
Praia Ilha de Tavira is considered the jewel in the crown of the eastern side of Faro. It is also often locally referred to as Praia das Cascas. From Faro airport, taxi cabs can take visitors to the jetty of Tavira, which is located just outside the town. From there, it's only a few minutes by boat to this beautiful sandy beach.
Ilha da Barreta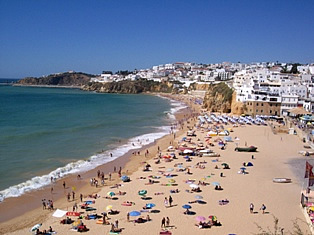 Ilha da Barreta is a pretty little island covered in wildflowers and featuring a long sandy Blue Flag beach. This island is further away from the town, but will definitely be worth the trip. From Faro airport, taxi service is available to the Porta Nova ferry, which will take you to the island. Sunbathers can opt to go straight to the beach, while nature lovers may consider taking the ferry tour and receive a crash course on the unique local flora and fauna of the area.
Lukas Johannes is a driver for Shuttle Direct. If you're looking for a Faro airport taxi, Shuttle Direct provide pre-booked shuttles to major destinations all over Europe. Wherever you travel, Shuttle Direct can make sure that you don't miss your car on your holiday abroad.
Article Source: http://EzineArticles.com/?expert=Lukas_Johannes http://EzineArticles.com/?The-Beautiful-Beaches-of-Southern-Portugal&id=7026782, Pictures by guymoll, lele3100