Sights and attraction in San Sebastian
ByHarve Kaufman
Spain's most fashionable seaside resort lies in Basque country on the southern coast of the Bay of Biscay (the north coast of Spain). With a 2006 population of 183,000, San Sebastian - Donostia is the place to go for a refined seaside holiday. The picturesque horseshoe bay with the rocky Santa Clara Isle in the center is the perfect setting for an elegant resort city, and the city is surrounded by aesthetic hillsides with magnificent scenic vistas.

Although the city was chartered in 1150, it was burned to the ground in 1813 by British and Portuguese troops who had just expelled the occupying French. The inhabitants were pro-British and anti-French, but the city was burned to the ground in spite of that. Therefore most of the city dates from the 19th century and features some definite Victorian elements.
Old part of the town of San Sebastian
The old town features the Almeda de Calvo Sotelo where there is a great selection of cafes, restaurants and shops. The oldest Church in town, the 16th Century St. Vincent's, is a great feature of the old town. The arcaded plaza there was once used as a bullring. From the old town you can walk to the beachfront, or go past the Royal bathing pavilion and take the funicular railway, built in 1912, up Mount Igueldo for the best views of San Sebastian. The mountain also features kiddy rides and attractions.
The imposing late Victorian Cathedral marks the way to the New Town, and there are other noteworthy buildings such as the Palacio de la Disputacion, as well as the 18th century Baroque St. Mary's Church. There are also several fine museums worth visiting in the city.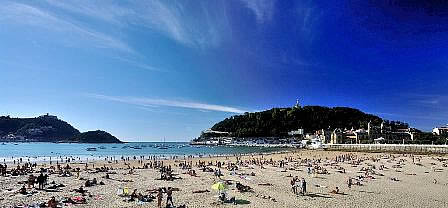 Food in San Sebastian
San Sebastian is also noted for its Basque cuisine, and while you're by the old part of town, stop into one of the bars and sample the city's tasty snacks called pintxos, which are similar to tapas. The city is also well-known for its fiestas, as it has one in each month of the year. San Sebastian Day is a unique celebration held on 20 January where adults dress up as cooks and soldiers and the entire city is awash in the sound of drums for 24 hours straight. Fascinating!