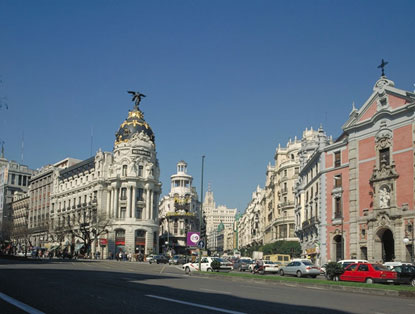 Tourism in Madrid
When looking for a there are many selections that offer just the right accommodations for the exited and curious traveler. Where you choose to stay can be influenced by an array of outside factors, such as budget, vacancy, and the closeness to main attractions. For some, it is quite important to be situated about the hustle and bustle of the city, while others don't mind a quiet residential setting on the outskirts of town.
When looking for a room in Madrid that isn't too cheap, yet not expensive, Hotel Praga, located at C/Antonio Lopez 65, provides lodging for a little over $80 per night. Local attractions situated by this establishment include Puerta del Sol and Plaza Mayor. Spend a little more at the Best Western Hotel Atlantico on Gran Via, 38 and for about $150 per night you will have access to extra perks that will make your stay a little more comfortable. For those working with a budget that can handle a higher end selection, the Westin Palace Madrid, found at Plaza de las Cortes, 7, charges close to $400 per night.
When it comes time to plan an itinerary for the city, you will probably have a hard time sorting out all of the exciting attractions that Madrid has to offer. Museum lovers are in heaven with the best sights being the Prado, Reina Sofía and Thyssen Bornemizsa. A visit to Puerta del Sol will bring you to a host of 19th-century buildings that are surrounded by numerous shops, cafés, bars, and eateries. In Castellana, the Real Jardín Botánico (Royal Botanical Gardens) is positioned.
Best time to visit Madrid
Climate in Madrid Spring lasts from the middle of March through till May, and this is one of the most pleasant times of the year to visit the capital. Although rain is not uncommon at this time of year, there are many pleasantly warm days in between. Suntan season begins in June and lasts all the way through to August. Temperature-wise, Madrid's Summer should really be divided into two sections - the pleasant summer and the very hot summer. However, travellers should be warned that the city does not always cool down during the night. Autumn comes in September, and blows into winter by December. This is another ideal time to visit Madrid, as the weather is generally pleasant. Do take an umbrella with you though as bouts of rain are not unheard of.
Attractions of Madrid
f you are planning to visit this Captivating City then you should make a game plan before you go, in order to fully maximise your vacation. By taking a little time before your holiday to find out where things are and how to get to them, you will leave yourself much more time to enjoy what the city has to offer when you get there.
Because there is so much to choose from when you visit this busy and cultured city, we have outlined the details of the Top 10 Attractions in Madrid below. We hope that you find something in here that catches your eye. If not, don't worry. Madrid has plenty more to offer, and the listed attractions should merely act as a starting point for your excursions!
1. Museo del Prado
2. Museo Nacional Centro de Arte Reina Sofia
3. Arab Wall
4. La Casa de Campo
5. Plaza Mayor
6. Puerta del Sol
7. Museo Arquelogico Nacional
8. Plaza de Toros de Las Ventas
9. Café de Chinitas
10. Parque del Retiro

Shoping in Madrid
Madrid can be summed up in one word…
'Cosmopolitan'
. Their industry is mainly kept to the Southern Fringe, and the city is renowned for its lively nightlife, making this the ideal weekend break, whether you are travelling for business or for pleasure. Striking statues, buildings, and monuments litter this diverse and captivating city, and it has a whole host of sights for people to see. Tourists will find this an accommodating and
Friendly City
, which is easy to get around, and has plenty for visitors to do.
Madrid
is also a shopping Mecca for the fashion conscious. Long has this capital city been renowned for its style and grace, and the shops in this metropolis offer the best of world fashion. So, if you are looking to pick up some stylish accessories and outfits then this is your city, but be warned, things can sometimes be quite expensive in
Madrid Spain
.
Madrid is no longer the cheap budget holiday of the past; it is now a cultured and sought after holiday destination, which attracts the affluent and stylish. If your idea of a perfect vacation involves sun, shopping, culture, and a little bit of history, then Madrid is the ideal city for you to visit.And remember, you should always look around to see what holiday deals are being offered in
Madrid
. Spain is a notoriously cheap place to travel to, and you could secure yourself some well-priced accommodation and flights if you look around. It is also advisable that you learn a little Spanish before you go. Although the people of this vibrant city do speak English, they much prefer to converse in their native tongue. Besides, learning a new language will add a little bit of flavour to your vacation. Source of all pictures: Office for tourism Spain