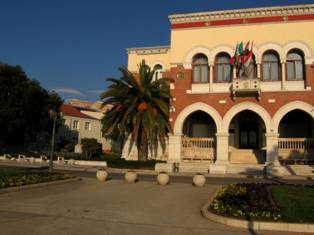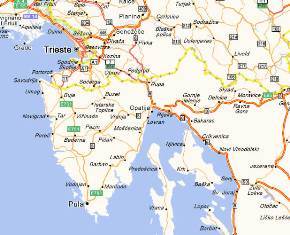 The most visited resort of Istria
Porec
- is probably the most visited resort in Istria, known for its hotel settlements, the Blue and the Green Lagoons, and the islet of St. Nicolas in the vicinity. In ancient times the town was an Roman colony since the 2nd century BC . Today Porec is a town with a preserved Roman urban pattern and numerous unique Ancient Roman, early and late medieval buildings. The most outstanding being Euphrasius' Basilica built in the 6th century on the site of an earlier basilica from the 4th century and of the even earlier Mauro's oratorium, of which floor mosaics have been preserved.
Webcam Poreč Croatia
Live photos from weather cameras broadcasting 24 hours a day. Webcams are constantly updated. Click on the pictures to enlarge details.
Main Square - Forum
The city of Porec dominates the area from Tarski Bay on the north to Limska cove to the south of the western coast of Istria as well as a significant part of the interior of the peninsula almost to its center point.


The main city square, the Forum is located in the westeren part on the tip of the peninsula where in prehistoric times probably stood the cultic sanctuary. In the period between 535 and 550 bishop Euphrasius erected his own monumental building on the walls of the former the first church space - the domus ecclesia of which floor mosaics have been preserved. The Porec museum houses a collection of archeological findings, an etnografic and artistic collection and a collection of stone monuments.

Tourist city of Porec
Only a few minutes drive with a car is positioned popular seaside Plava Laguna. Here you can swim and sunbath.There are designated cycle routes in Porec' which are very popular with people on holiday in Croatia.
.Porec is today well known tourist city, where visitors enjoy walk through the streets of the city. The old city is actual the most interesting part of the town. Easy walk through the streets under balconies, terraces and portals gives you an picturesque aspects of the town.
Porec today

Today, tourist infrastructure is intentionally dispersed along the 37 km long coastline, between the river Mirna and the deep Limski Kanal (Lim Fjord).
The south hosts self- contained centers like Plava Laguna (Blue Lagoon), Zelena Laguna (Green Lagoon), Bijela Uvala (White Cove) and Brulo. To the north, mirroring centers are Materada, Cervar-Porat, Ulika and Lanterna. In the high season, the area's temporary population can exceed 120,000.