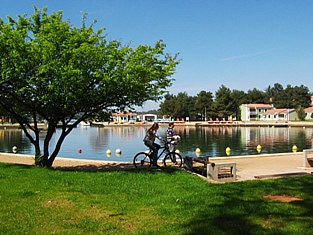 Umag, Umago Croatia
Umag, Umago Croatia lies on the western side of Istria peninnsula. It is about 7 km far away from the border to Slovenia and about 30 km from Trieste in Italy.
At glance Umag is a harbour and small, old, picturesque town but because of it geographic placement and mild climate, Umag has visitors all year.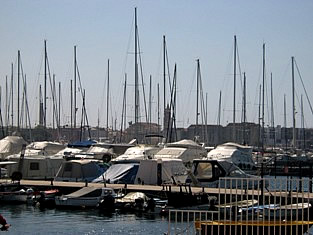 Istria has laid out its wonders in the garden of the Adriatic sea. The towns strung like pearls along the coast: Umag, Novigrad, Poreč, Vrsar, Rovinj, Pula, Rabac. All the towns that have made Istria a famous destination.

There is also another Istria, which is also worth exploring - the inland of Istria - a green, clean and unspoiled nature. Its towns and its people will bid you welcome and let you share in their spirit and the times long gone. Umag resort is a great starting point for exploring Istria peninnsula.

What to do in Umag
The mild Istrian climate, fresh air and non-polluted sea enable sportsmen and recreatives to train nearly all events throughout the year. Many world famous athletes have recognized this advantage and have been coming to the Istrian coast to improve their sports technique when not competing. Close the hotels are sports grounds for tennis, football, mini golf and athletics as well as top quality training of the best sportsmen.
The most known event of the Umag reggion is the international ATP tennis tourney which is organised each year. Thats for champions. For all other there are many tenis courts for recreation or training.

If you are bicycling fan here you have excelent condition for family, recreation or advance sport's cycling. The most popular and interestig is family bike trip (about 10 km) near coast from Umag to Savudrija. Of course this line is also recomended for runner and walkers. Umag as first bigger town on Istria penninsula is a great starting point for longer bicycle tour over and round penninsula inland.
Leisure on the coast
The Coast resort between Umag and Savudria is designed to accommodate families, sportmen and business travellers. The relaxing atmosphere of the landscaping and salt air blowing from the coast makes for a truly memorable stay for everyone. Restaurant lounges are also available for people who just want to have a good time. Parking is never a problem with the open spaces that the resort has. Car hire arrangements can also be made with various accredited companies at reasonable prices. In the hot summer days should be important thing to be acomodate close the coast and beaches. Between Umag and Savudrija this is not difficult because all the area is a hotel, camp or rent resort near coast. Beaches are located 9 km on coast from Umag to Savudrija and they are surrounded with pine wood and other mediterranean vegetation.
The warm summer evenings is great time for walking thrue the streets of older part the town. It was built on the remains of what used to be a Roman settlement. Narrow streets interweaving with one another, and the attractive nucleus of the town have remained preserved.