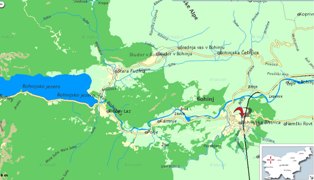 Bohinj is one of the most beautiful places in the heart of the Julian Alps and in the Triglav National Park. The natural beauty of high mountains, green forests, a rather large glacier lake, and the cultural and historical monuments, guarantee visitors a pleasant stay in this beautiful valley.
Lake Bohinj
Lake Bohinj is the largest natural lake in Slovenia. The origin of lake is glacier / tectonic type. The glacier excavate bottom of lake and encircle itwith moraine on the east side. Main source of the lake is waterfal Savica that flow in at Ukanc and on the other side flow out as river Jezernica. After 100 meters the river Mostnica attach to Jezernica and both flow from hier as river Sava Bohinjka. On the north border of lake we find underwater sources. The most known is Govic.
The lake is pretty cold; the average temperature is 8,5 degrees, but in july and august the temperature rise until 20 degrees. So in the summer the lake is wery suitably for bathing.
Active holidays in Bohinj
Bohinj is an ideal starting point for day trips, walks, and mountaineering and climbing tours, and it offers an ideal options and opportunities for active holidays or for just resting and relaxation in all seasons.

With cycle around Lake
The Bohinj area offers many possibilities for mountain-biking. Numerous forest roads and paths lead to hidden parts of valleys, and trough forests to the vicinity of mountain summits. You can make the trip alone, with your own bike, or you can also rent one, or you can join a group with a professional guide. Whichever way youchoose, you are requested to respect the environment which you are exploring and keep to the paths. You can make Round trip by bike through Bohinj, during which you see selected local highlights, natural monuments, churches, ethnological features, typical architecture. The route begins at the lake, goes through Zgornja Dolina at the hamlet of Bitnje join the main road, but soon leave it to visit the Mostnica waterfall. The trip is ended with return through Spodnja Dolina in lake direction.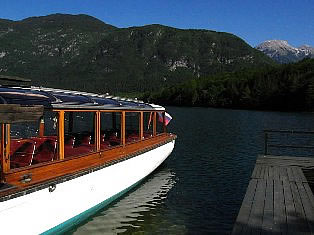 Take a Hike to places around Lake Bohinj
Bohinj surely needs no introduction as a starting-point for mountain hikes and walking. Triglav alone, the highest mountain in Slovenia, can be reached from three directions (Dolina Sedmerih Jezer, Voje valley, Pokljuka). Walks across the mountains of Bohinj the ridge of the Spodnje Bohinjske Gore mountains with their fairy-tale beauty, easier climbing routes such as Miseljski Greben or Vernar, these are just a few suggestions. First-grade maps, marked paths, guide-books, they all enable most mountaineers to take a trip by themselves.
Bohinj cheese
On the mountain pasture of Bohinj the farmers made famous Bohinj cheese. The techology of it is based on produce of Emental.
The different between Ementaler and Bohinj cheese is in large of loaf (65cm ) and weight (40-50 kilograms) The taste and aroma are similar as Ementaler.