Lake Bled 20.12.2013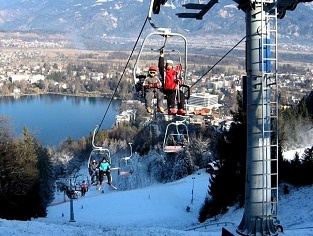 Skiing in Lake Bled
The hill "Straža" above Lake Bled will be ready this Saturday for the first skiers. After two years of standstill will be small ski resort of Bled Straža this Saturday, 21 December 2013 at 10 hours put into operation again. This season you will also have the opportunity to rent a ski resort.
A favorable weather in recent days has enabled to ski resort managers that they with artificial snow covered part of the ski area. They are covered with snow the so-called "S line" and the area at the end of the ski slopes.
There's a "Baby Snow Country" with Sporty bunny for youngest skiers and visitors. On the ski slopes is organized ski school and ski equipment rental. The visitors have the option of renting ski area for groups, of course, outside of regular opening hours. There is also a place for parking.
Skiing above Lake Bled for Christmas
Referred to ski newness, the guests will be greeted to ski on the slopes of Straza hill above Lake Ble by the end of December 2013, when the cableway to "Straža"should be ready to start. The new cooling system for making snow will be able to do more good and quality snow, so the new ski season will be opened until 20th December and offered to visitors which will stay for Christmas and New Year holidays opurtunity of skiing.
For Lake Bled's tourism the events on the snow in the close proximity is very important. Although the tourists providers still organize for demanding guests transport to larger ski resorts.