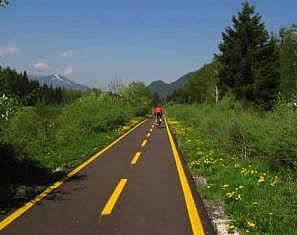 Start from Kranjska Gora - Slovenia
Kranjska Gora is a lovely place for lovers of mountains, peace, nature and of course cycling. Geographical coordinates 46° 29' 2" North, 13° 47' 22" East . The cycling tour begins in Kranjska Gora - Slovenia continue throug Italy, pass mountain pass and takes return through Austria to Kranjska Gora. From Kranjska Gora to Italy border and forward through Val Cannale valley leads well done cycling road. Because of descent from Tarvisio (900m) to Pontebba (550m) you will enjoy easy but fast drive.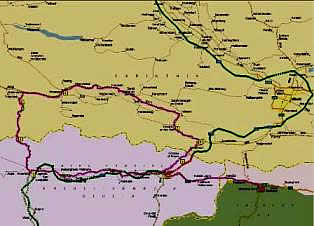 Ascent to Passo Pramollo
Run from Pontebba to Passo Pramollo is the hardest part of tour: ascent from 550 m to 13 km and 1530 high pass Passo Pramollo. .
On the main square in Pontebba town you will find source of drinking watter and place for short break. Ascent to Passo Pramollo begins on picturesque grases and winding above steep mountain stream Rio Bombasso over mountain bridges and nature tunels ..

Descent from Passo Pramollo / Nassfeld to Austria valley
Do you need a short break after long and hard 13 km ascned? Take a few minutes of time and ware something warm. Another 20 km will be followed by a descent toward town of Hermagor - Austria.
Your next target will be Austrian town Arnoldstein. Folow signs to Italy and Tarvisio over pass Coccau. Do you remeber lovely descent from Ratece to Tarvisio on begining of your tour? Well at the end of your tour this will be your last 10 km long, luckily not hard ascent. Finally Kranjska Gora village (and beer) is not far off..