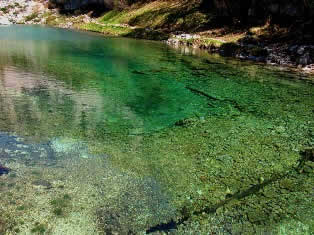 Where is Lake Triglav valley
Lake Bled is origin for ascent to the Triglav national park from east side, and Lake Bohinj offer approach to Triglav's park from south side. The valley is the core of the national park and unique for its scenery with high rock faces, glaciated lakes, plentiful of alpine flora and fauna, carstic landscape. The most populare trips from Lake Bohinj are trip to Lake Triglav valley and Komna meadow. The best chois for accomodation is sourrodning Lake Bohinj, but for your transport to walking origin you must have car. Distance between Lake Bohinj and waterfall Savica where the all walking paths begin is aproximatly five or more kilometer. Your own car, car hire or taxi is almost necessary. . You can book car online from car hire rent a car supplier.
Hike to Triglav Lake valley
The starting point of Lake Triglav valley hike is positioned on parkplace near Savica waterfall. The path begins with crossing the bridge over Sava Bohinjka river. The map, yes it's important that before you begin with walk to the Lake Triglav valley you have your own map. Good shoes: to the first of Seven Triglav's lake you need 3 - 4 houres and 3 houres for return. Don't use your new shoes, take any old and comfortable one. Even you are going on trip to Seven Lakes take enough of wather.



From Lake Bohinj over Komarca wall
Ready to go? What's the weather like? Sunny ? Yes! Let's take a hike!
From the parking place cross a small bridge. Follow the path route and turn left uphill - see sign with name "Sedmera" or "7..." This is beginning of path to the
Komarca
wall. It is a 600 meters high wall across which interesting trail is made. The path is marked and on exposed places secured. At the top of the wall you can take a rest enjoying view on a valley with
Lake Bohinj
. For ascent over 600 m you need 2 houres+ and at least one liter of water because you ascend over sunny slopes of Komarca
Black Lake
The Black lake is only 15 minutes away. For tired hikers is now time to returen. The path slowly ascends continue thrue the wood to the Double Lake.
There you will find a mountain hut, where you can have a meal. For most of hikers here is end point frome where return back to Bohinj. For other here on 2100m the real mountaneering begin.
I sugesst that you follow the path thrue the valley uphill thus observing the beauty of Triglav lakes to the another mountain hut Koca na Prehodavcih which is two hours uphill from the hut Na sedmerih jezerih (Seven lake hut). In a hut of Prehodavci you can pass the night. Next day you can decide for ascent on the Triglav summit (3 houres) or return back. Triglav which is already a serious climb allowed only to the skilled and well trained and physically fit mountaineers .