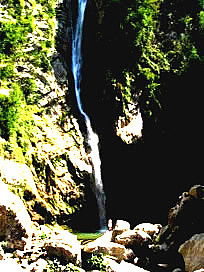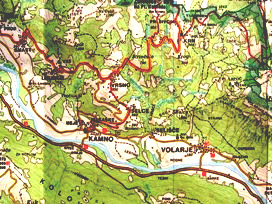 On the whole teritory betwen Nova Gorica and Trenta valley we feel domination of river Soča. All the tourists gazeed like spellbound to the cristall clear turquoise collor.
There in close proximity we find hidden afflux with spectacular watherfalls. Here we have description of two waterfalls: Brinta and Gregorčič.
Startingpoint of day trip - Tolmin town
Getting there
Tolmin, the town that gave the name to the entire region, is the largest settlement in Zgornje Posocje Slovenia (Upper Soca Valley) as well as the economic, cultural and administrative centre of the valley.
Tolmin's central sights are its aged city centre, a new sports playground and a thousand year old castle ruins at Kozlov Rob. Tolmin region is famous by Tolminka and Zadlaščica gorge.
The region offers numerous waterfalls like Brinta Waterfall 104 m, Gregorčič Waterfall 88 m and some slighter others unknown waterfalls in the ravines of the Mrzli Potok, Godiča, Pščak, and Sopotnica.
Trip to the waterfalls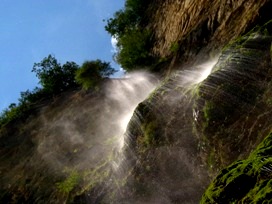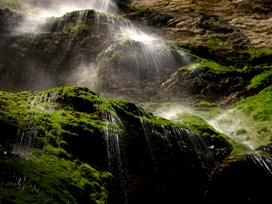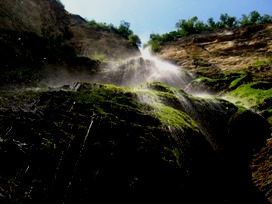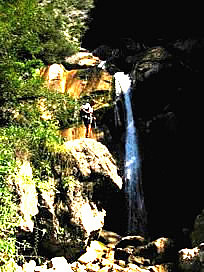 The starting point is village Selce near Kamno in valley of river Soča. Kamno lies between Kobarid 5 km and Tolmin 7 km. It lies close the river Soca and border of Italy. The region and especial the town is a god starting point for sports, walks, climb or other recreation activities. Of cource you can also go to the beaches at the Soča river.
Trip description to waterfalls
We leave the car on the parkplace at the end of village Selce (382m). Take your trecking poles with your self. It shell be useful. First we turn to the right through the village (follow the arrows) and then over the larger meadow above plum trees to the wood border. Here we find the path which it descent pretty steep to the 100m lower to Malenšček (Malenscek) stream gorge. We jump over stones in stream to the other side where lie grave of unknown russian solder. The path leads left to the Brinta waterfall (104m). It is recomended that you visit it on return. From Selce to the grave you need 20 - 30 minutes.
We continue trip with ascend (100 up) cross wood towards Gregorcic waterfall until arrive tree with registration book. Far at this point catch in sight of Gregorcic waterfall. Crossing the slopes of the hill the path lead over scree and after 200 m descend nearness stream Volarja. From here you can descent lower to the smaller waterfall over boulder