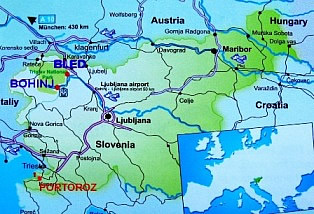 Port of Roses
Portoroz
, (the word mean Port of Roses), is situated in one of the most beautiful bays on Slovenia's Adriatic coastline. The town is Slovenia's biggest tourist centre.
Portoroz is easily accessible by car. The resort of Portoroz lieas about 30 km from Italy and 10 km from Croatia border. It can be also accessed from Ljubljana airport by motorway Ljubljana - Koper in just a bit more than an hour of drive.
Portoroz can be also accessed by boat from 80 km faraway Venice as one of trips Venice - Portorz.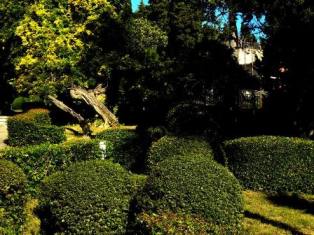 Discover towns and landscape around Portoroz
If you like to discover different towns and landscape or explore diverse possibilities of spending your free time than Portoroz and Piran are places where there is always something interesting going on.
In the peacful region of surrounding country only few kilometers from Portoroz lies Secovlje saltpans. Abandoned satlpans are today peaceful place for birds, visitors and few workers.
The saltpans were abandoned in the 1960's and declared a landscape park in 1989. The saltpans cover the area of 650 ha. They give shelter to many bird species and plants. In the spirit of preserving tradition, the saltpan museum uses the 600-year-old salt- making technique for the production of salt.

Todays tourism in Portoroz
Modern tourism began at the end of 19th century with a small hotel and seawater therapy. The facilities in the centre or vicinty of Portoroz today offer many kinds of services; from everday tension, and a wide range of health problems.
There are organized water aerobics classes, Turkish-style or Finnish-style saunas at several temperatures, massages, Mediterranean baths with sea salt scrub and so on. Of course mild mediterranean climate offer special pleasure forlover of outdoors activity such as hiking, bicycling, tennis courts..

Nightlife in Portoroz
If you are looking for something exciting for the weekend, you might want to check out what can you find in casinos of Portoroz.