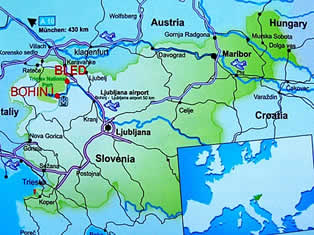 How to arrive Pokljuka meadow from Lake Bled Slovenia ?
Special location of Lake Bled on border with Triglav national park offer great chois to explore surrounding of countryside. One day trip from Lake Bled to Pokljuka plateau should be excellent choice. Distance between Lake Bled and Pokljuka plateau is aprox 20 km. There is no busses so I suggest car hire or taxi. You can book car online directly from Bled with car hire rent a car supplier.
Mount Triglav from slopes of Visevnik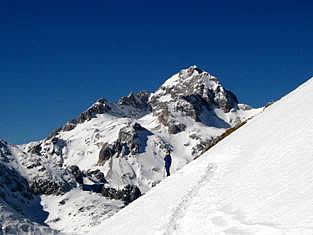 Where is Pokljuka plateau ?
With car we can arrive the top ( 1500 m) of Pokljuka high plateau. From here starts numerous of hiking paths to meadows or sourrounding peaks. This high plateau is a good starting point for more demanding tours. Hiking across mountain pastures, farmers lodges and lookouts from where great views over the Bohinj Valley can be seen. This piece of country is the densely forested area in Slovenia.
Lake Bled Tourism: Book your room in Lake Bled Slovenia
Hotels are situated in the heart of Bled and offers visitors wonderful views across the picturesque lake with its island, the medieval cliff-top castle and the majestic Julian Alps in the background. Of cource you can choose accomodation in surroundings town in a pleasant and quiet area.
Hotels and pensions are built in the typical Slovene highland style and offers comfortable double or family rooms, with a terrace outside and a bar in the lush, well-kept garden. There are also wellness and beauty facilities next door, for all those who want to relax and to be pampered.
Maps of Pokljuka plateau - Triglav national park
Pokljuka meadow bellow Visevnik mountain
The one of easyst path but with spectacular view to Mount Triglav is a hike from Rudno polje to Visevnik mountain. The origin of of walk begins on Rudno polje close the barracks. The hight difference amount 600 m. The ascent is posible almost all year but the finest is in late spring, when globe flowers, spring gentians, alpine clematis, alpine anemones and mountain avens are blooming on the slopes above the ski grounds. If you plan ascent in summer you must plan enough of watter because the entire route follows open sunny slopes.
Skiing across north slopes of Visevnik