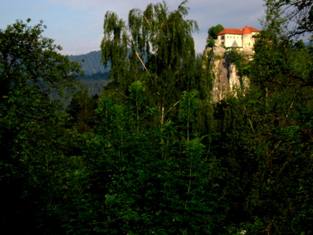 A bike trip from Lake Bled to Lake Bohinj
The surroundings was peaceful because everybody were still in their beds. It was Sunday morning and Everyone were sleeping from children, adult people and other guests in hotel. The weather was nice and sunny and the view on the Lake Bled was great. My friend invited me to bicycle trip from Lake Bled to Lake Bohinj and I was looking forward for the trip.
Distance from Lake Bled..
Distance from Lake Bled to Lake Bohinj is about 30 km. There are no specially cycling tracks, but all the local roads are pleasant for cycling. The path is pretty easy and we can ride with our bikes mostly over flat landscapes near river Sava Bohinjka, except at village Bitnje where we must turn right. There is about 2 km ascent with 10 % incline in direction of Jereka village. The easier way (and also my suggestion) is cycling through Bohinjska Bistrica to Lake Bohinj and return over Jereka village.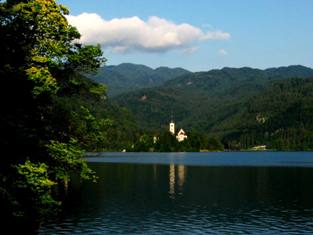 If you are tired or hungry, you can take some sandwiches in the centre of Bohinjska Bistrica at the old petrol pump (there is no gasoline).
There is no need for hurry, because from Bohinjska Bistrica to Lake Bohinj is now only 10 km, the landscape is beautiful and cycling on fresh air is pure pleasure.
Our goal is to come to the old bridge over river Sava close by Lake Bohinj. You can refresh yourself in miraculous and clear water of lake Bohinj or buy a beer in nearby pub.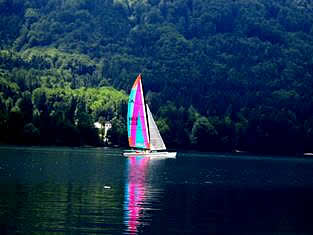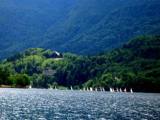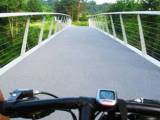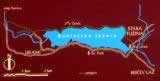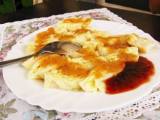 Arriving Lake Bohinj
Bohinj Lake is extremely beautiful. The surrounding area is less commercialised than Bled and for some people this signifys pure nature and beauty of the place.
The area is right in the middle of Triglav National Park, which is very known National Park in Slovenia. After refreshings you can continue cycling near Lake Bohinj (another 5 km) to hotel Zlatorog and waterfall Savica.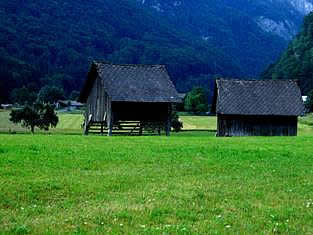 When you decide to return back from the trip, I suggest nice road through idyllic village Jereka, then you must descent to settlement Bitnje and go over local road back to Lake Bled.