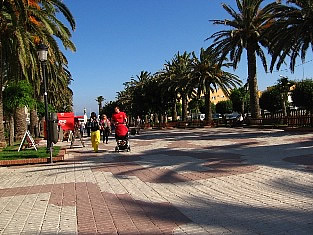 From Zahara de los Atunes to Tarifa
From our camp in Zahara de los Atunes we continue towards south. The road does not lead to the coast, but to the inland. The landscape is very plateau like. Everywhere you look there are lots of fields and tractors. Only 15 kilometers before the town Tarifa around 13.00 o'clock we arrived to the place where
Europe is the most close to continent Afica
.
Tarifa Andalusia - Spain
Tarifa is located where the Atlantic meets the Mediterranean at the Southern most point of mainland Europe.At this point i saw again beautiful sea. I stopped on the parking place near holiday apartments by the sea – on some swimming and bathing i didnt even think about it, because of strong winds. I noticed this strongside wind, which was blowing in thrusts from mountains towards the sea. This wind blow already from Cadiz downwards.ad
Tarifa is here
When i drove across Tarifa i noticed a very interesting road portal in moroccian style, with arrow-shaped small towers, which were a little bit simmilar to minarets. Even this portal was built in this age, i knew that Africa is not far away. A little bit outside the Tarifa i saw on surrounded hills exceptional huge amount of wind turbine for acqusition of electric power. I thought because of strong winds those wind turbins are in very good use. The road turned in the inside and soon i arrived in bigger town Algeciras. This town i have in memory as a very dirty and untidy. The reason for this situation i ascribed to many of those african immigrants, which are here only a leap across the sea narrow from africa, and here find those immigrants their first shelter place.

Windsurfing in Tarifa:
Surfers from all over the world head for Tarifa all throughout the year. It is also the exact point where the "Poniente" (harsh west wind) meets the "Levante" from the east. These winds make Tarifa one of Europe´s premier windsurfing spots. It´s not really an ideal place for beginners because the winds can be very strong. You can rent windsurfing equipment from one of the many surf schools attached to major hotels.
Go or not to go to Africa
                        The weather was prety changeable, for while it was cloudy, and than for a few moments sunny again, me myslef, i mean i wasnt in a very good mood. Because of that i decided not to go on a trip to
Africa
. But if i would go to that trip i would defenitly my car parked in town, and than i would go with the ferry to Ceuta, this is a spanish town on the african coast. I also read in one of my tourist guides, that
town Ceuta
is completly in spanish style and you dont have a felling that you are actually in Africa. So i decided not to go on that trip.
Tarifa shops near shop
Nevertheless i drove to the ferry port, just to see what are the prices and schedule of departures. It was all the same, i remembered what this girl from the Netherlands told me: To Ceuta drives »fast ferry«, the price to one way is 21,4 Euros per person and 62,7 Euros per car. Parking places (probably payable) for cars is probably protected 24 hours per day. I wrap up towards the centre of town, which i looked where it is for a while.I parked in the nearest part for pedestrians and walked down the street.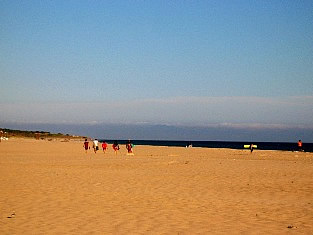 At that time almost everything was closed down, but i found a nice confectioners shop, where i ate two cakes (for 0,8 and 0,9 euros) and drank some lemonade with chushed ice (for 1,45 euros), which was absolutely to cold, and i got a little bit affraid on my throat. I walked round this whole street and i couldent found a place where i could buy some postcards. Everything, except the fast food restaurant and the confectioners shop was closed... I found this very unbelievable.
Accomodation in Tarifa
You can chouse from small and exotic hotels, hotels built in the Moorish style with high arches and palm trees or hotels in beautiful subtropical gardens. Those looking to combine elegance with activities will be happy to know that Tarifa is one of the surf meccas of Spain. Here you can arrange for windsurf instructors as well as horse rides on unspoilt beaches and riding excursions through wonderful nature parks.