Costa Brava is the part of the coastal province of Cataluna. This is in the northeast of Spain, it has about 125 km of magnificent coastline, from French border to the beautiful resorts of Blanes. Almost the whole reigon is well known for ist huge tourist resorts like Estartit, Tossa de Mar and Lloret de Mar.
Costa Brava
Most of those tourist resorts are known for mass of tourism but many of them are still very beautiful and unspoilt places to stay. Especially along the north of the Costa Brava you will find a beautiful places for great hikes and relaxation, a places such as Cadaques and Tamariu. If you dont like a bunch of tourists or crowded beaches, there is a place for you to avoid all of those problems and enjoy in villas tucked away and in charming picturesque resorts or whitewashed villages.
Villages of Costa Brava
These villages are often bounded by rolling vineyards and bounded wooded hillsides, this are for sure an ideal places to stay when exploring this province, which is known for its interesting and amazeing cultural heritage and extraordinary natural beauty.
For visiting the Costa Brava is the best time during months June and May, at this time the villas and resorts are less crowded and temeperatures are really very nice they are in the mid 25 degrees Celsius.. Also a good month for a visit is September, but the weather can also sometimes be rainy. If you go north from Barcelona, you will encounter amazeing beaches, small sandy bays, warm seas and picturesque little fishing villages. The regions has part from the coastal scenery and great beaches also great and highly rated, delicious cuisine and a few natural parks, which are a rich cililization of Romans and their heritage and lots of interesting museums which are full of art works from many Spains famous painters and other great artists. If you want to get away from all the crowds and other tourists, its highly recomended to visit some of these beautiful places..
Tamariu village - Costa Brava
Tamariu is also a nice village with white washed houses that overlooks a cove with blue waters, all around with white and pink rocks. There you will find along the promenade a restaurants who offers you many delicious grilled fishes, other sea specialitys, many sorts of local vines and famous paella and tapas.
Unfortunatelly there is almost no nightlife her, because the only resort closes at 11pm, so this tripp is more for people who wants to have or who appreciate great seafood, beautiful surroundings and quiet evenings. Also very known is Alguablava, this is a traditional and small village in the Costa Brava with amazeing sandy beach, also the sea in this place is very intense, it has very intense cobalt blue colour. This place is popular for young families, for older copules, there is also almost no nightlife because all the bars and restaurants shut in the evenings down. The town has also two wonderful hotels with delicious seafood and excellent restaurants.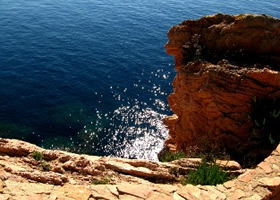 Between Aiguablava and Sa Riera
.. the coves among the Costa Bravas are one of the most beautiful. So i recomend to take a short drive to inland to visit a gorgeous medieval town of Begur, which lies on the top of the hill in semicircle, it has also an imposing five huge towers, the castle is from 15 th century. It was also occupied during the War of Independence. There are winding and narrow streets which are ending at he main square, there you can find plenty of good restaurants and shops to buy some souveniers. Just five minutes drive from L'Escala we can find a fascinating archaeological site Empuries. . .

Empuries - Costa Brava Spain

This is one of the first settlemed by at first the Phoenicians then the Greeks and at last with Romans. Once this was a thriving city, which was founded very early in the 6 th century BC. Its ruins are includeing all sort of shops, streets, temples and also the remains of mosaic floors and beautiful villas. In front of those ruins we can find a nice sandy beach with soft sand and shallow water.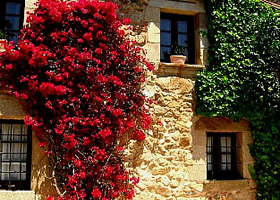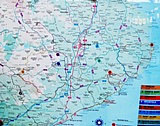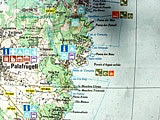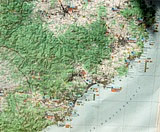 Cadaques - Costa Brava Spain
If you want to reach the secluded town of Cadaques, you must drive along a steep road and through rolling hills toward the sea. There you will find lines of old whitewashed and blue-shuttered houses, and along the main bay you can see a great bach, with lots of boats going and coming. All sort of caffess, restaurants, galleries and boutiques offers you a great holidays. For those who are interested in art there is The Perrott-Moore Museum which displays a collection of Dalis great graphic art. There is also the municipal Museu d'Art which has an exhibtion and works by the local people, as well as paintings by Toulouse Lautrec and other famous Spanish artists.