Weather in Tarifa Spain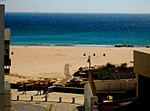 Because of the sea near Tarifa, the air temperature keeps steady between 15 -32°C all year round. In winter it can rain, and when it does it really belts it down but during the sunny spells the water and air is warm enough to go for a swim. The breeze never stopped blowing and you never really feel the heat of the sun, so you must care for your skin.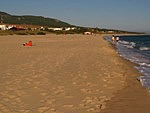 If you walk through the old town centre without prejudices or definite expectations,
you will discover much hidden beauty. Picturesque corners, Flamenco music, flowerladen windows, peacefulness. And then, only a few streets further on, just the opposite: Crowded cafés, restaurants, bars and discotheques, with happy people – expressing their joy of life.
In the surroundings of the town you will find a generous – and at the same time somehow unapproachable– type of nature. The Atlantic Ocean and the Mediterranean Sea offer ideal conditions for scuba-diving, snorkelling and surfing, the landscape around Tarifa for taking long walks, doing bike-tours, horse-back riding and watching wild birds etc.