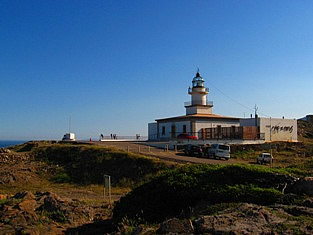 Cap de Creus
The Cap is also with his lighthouse very important point particularly for nautical charts. Since May 1998 is Cap Creus declared as a nature reserve, and lies right near the sea as well as on land. At land the area begins in Bol Nou this is near the Cala Tamariu in the region of Port de la Selva, and ends in Roses at the point of Falconera. In this area is Fishing with nets forbidden, but in some zones is fishing very traditional like the »Palangre« or staggered arrays, here is Fishing permitted. On land we have here also 90 hectares of protected area. It also covers the municipal areas of La Selva de Mar, El Port de la Selva, Cadaques, Palau-saverdera, Roses and Pau. It has a coast with deep waters, abrupt coast, very high cliffs, tiny islands and reefs of rocks who were made by erosion. The inland is covered with forests and meadows and plenty of hidden small bays with gorgeous blue water, which are many times accessible only with a boat.

Nature of Cap de Creus
Cap de Creus is one of the last parts of the Pyrenees and also the easterly part of the Iberian Peninsula. The east side of the Iberian Peninsula is also known for imigrations of the birds, especially the lion of Cap Gros and the eagle of Tudela. Flora and Fauna are here also equally protected. The whole area is around 40 hectares big and lies in Port de la Selva. Cap de Creu is nature reserve and it is the only one in Spain. It covers land and sea and contains the bigest uncolonized place in the Mediterranean in Spain.
The coast is barren, rocky and consists by many small bays. Flora and Fauna are here very special, and unique. We can find here a variety of rare species of animals like sea-birds who are in extinction and danger. In winter-time the northern winds are very strong here, which hinder maritime traffic and fishing at that time of the year.
Sourrouding country of Cap de Creus
The area around Cap de Creus is known by very small ecological pollution, it has a beautiful underwater world and is also known by divers. Cap de Creus has a very popular and iteresting lighthouse, this lighthouse send signals twice every 10 seconds.
In the sumer time there are some strong winds, who calms down during the night, the winds blow to 70 % from northern directions. The informations and informations offices of the Cap de Creus is situated at the monastery of Sant Pere de Rodes, adjacent municipalities like Restaurant Cap de Creus, Port de la Selva, Cadaque and Roses.
Trip to natural park of Cap de Creus
You can start your trip through natural park of the Cap de Creus, where you can enjoy the last part of the Pyrenees Peninsula into the sea. If you go on the trip with a mountain bike, there is a right place to admire a beautiful Mediterranean vegetation, rocky coastal hills, sparse vegetation and low cliffs faces. If you want to visit the Natural Park, is Permission needend for fieldwork and group access.
For permission you must apply at least 2 months ahead from Parc Natural de Cap de Creus. Around the area are also a lot of hotels, bungalows, hostels and tourist resorts of Cadaques, for camping in Cadaques is also arranged. Cap de Creus is also a good place for divers who can really enjoy gorgeus underwater paradise, here you can go Bird watching and admireing unique flora, there are also a lot of opportunitys for boat trips, cycling, swimming and hiking.