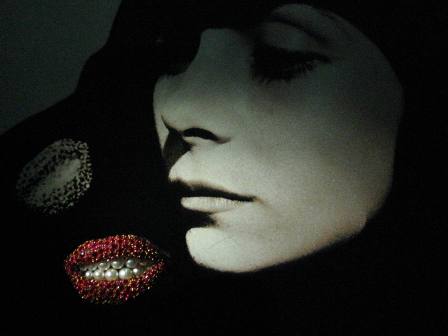 The entrance to jewels part of museum in Figueres begins with Dali's text from 1959: "In jewels, as in all my art, I create what I love. In some you will note an architectonic sense as you will in certain of my paintings; again logarithmic law is evident, again the interrelations of spirit and matter, of time and space."

Your admission ticket will include entrance to this museum, as well as the one next door which houses the Dali Jewels.
Museo of Dali art in Figueres
When you are on vacation in Barcelona or Costa Brava, who wants to spend time inside? But if you have half a day on some cloudy day and an interest in art, I recommend the Salvador Dali Museum in Figueres. . It's been a few years since I've been there, but I thoroughly enjoyed the experience. Most impressive were gigantic "masterworks" by Dali that became even more fascinating when their background and origin were explained to us by a tour guide. And it was also interesting to see works from Dali's early years — including some art from his boyhood, when it was clear he already had major talent.

Salvador Dali art
Jewel worth looking, Dali's royal hearth jewel which still beats: Gold, rubies, sapphires, emeralds, aquamarines, peridots, farnets, amethysts, diamonds and pearls. 8 x 6.8 x 2.1 cm
Dali Theater-Museum in Figueres: the town where Dali was born and died. The museum itself is a piece of surrealism with eggs and croassants on the roofs of the building. There are works outside and in the museum. You can find sculptures, paintings, pieces of furniture, mosaics, jewels.
Dali's jewel museum Figueres
Later on in his career Dali apparently liked to 'transcend artstic mediums' or basically in this case just make really cool looking jewels using ridiculous amounts of gold and precious stones. These are all displayed in a Dali's Jewel museum next door.
Dali Art: Jewels