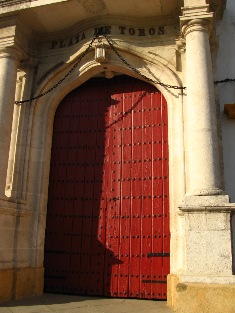 Seville - Andalusia
Andalusia and Sevilla are known for many different festivals and fairs. Andalusia has also been the birthplace of famous painters such as Picasso or poets including Federico Garcia Lorca and Antonio Machado. The list is endless and affirms the international character of Andalusian culture. This legacy is also manifest at the cultural events which take place each year in the region.
For example
Huelva
organizes the »Ibero-American Film Festival«,
Cadiz
the » Ibero-American Theater Festival. Malaga is host to the Festival of Spanish Cinema. The Biennial
Flamenco
Festival is held in Seville. It is the fairs and festivals which best characterize leisure activities in Andalusia.
Throughout the year myriad events are celebrated, including the week-long »Carnaveles« in Cadiz. In city of Seville there is another outstanding annual event »Feria de Abril« (April fair). At midday, the fairgrounds are taken over by handsome horses and their riders, along with horse-drawn carriages for the traditional parade. During the evening large tents are filled with music and dancing. Many of them require an invitation, but others are open to the public. This event in Seville opens the season of fairs and festivals in Andalusia which ends in October with teh festival of San Lucas in Jaen.
Bulfighting
The Real Maestranza bullring in Seville is considered the cathedral of bullfighting, one of teh most deep-rooted traditions in Andalusia. In the eight provinces bullfighting is a favourite sport, but in Seville, Corodba and Malaga, this art has become a passion. Andalusia has given bullfighting many important figures. Some of them such as Curro Romero, Espartaco and Finito de Cordoba are still active today. Some of the most importent ranches where fighting bulls are raised are ound in Sierra Morena in the townships of Banos de la Encina. The bullgighting season begins on Easter Sunday and ends in the October.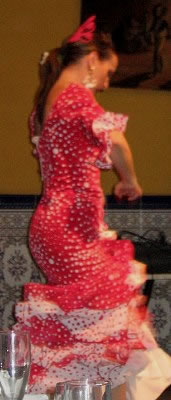 Flamenco
The music and dance called flamenco is another identifying symbol, as well as an artistic expression of the most deeply rooted Andalusian culture. The Schools of Seville and Cadiz have contributed some of the most singular figures of this art. Although the exact origin of flamenco is uncertain, it has been the gypsies who have performed it the most. Deceased flamenco singers, such as Camaron de la Isla, have helped make this type of music known worldwide. The most popular song forms are the Buleria, Solea, Alegria and Fandango. Famenco guitarists, such as Paco de Lucia, Vicente Amigo are acclaimed concert guitarists. Well-known flamenco dacers are Antonio Canales and Joaquin Cortes, who are delighting their fans worldwide.

Andalusian cuisine
Andalusian cuisine is almost a ritual. Gastronomic diversity mirrors teh multiple cultures that have settled in this land. In any case, all of them dip into the andalusi tradition which has already shown in the past a high degree of refinement as regards to cuisine. The basis of Andalusian cooking is olive oil, primarily produced in the province of Jaemn in places such as the Sierras of Segura and Magina and in the Cordoban towns of Baena and Priego.
The so-called Mediterranean diet, considered by many experts to be the healthiest in the world has its origin in Andalusia. There is a clear difference between mountain cooking and cuisine from the sea. In the mountains, game dishes include partridge, rabbit, vension and wild boar, accompanied by the classic migas pastoriles (fired bread crumbs flavored with garlic).
Along the andalusian coast, one of the most popular dishes is Pescaito frito (mixed fried fish), one of teh great culinary delights in teh region, in addition to sardines on skewers. Very famous are also Tortilla de patatas (potato omelet) and Tortilla Sacromonte ( and omelet made with seetbreads peppers, potatoes), a specialty in Granada.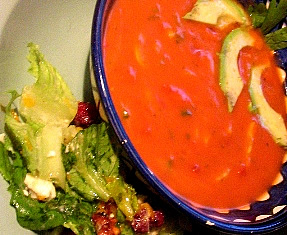 Many desserts have a distinct arab character. Bizcochos borrachos (drunken sugary cakes soaked in wine or syrup), torrijas (bread dipped in milk then fried and sugared) during Holy (Easter) Week they are eating dulce de membrillo (quince) and tocinillo de cielo ( samll squares made from syrup and egg yolks).
Those dishes are just few of some delicious examples. Also very well known are strawberries from Huelva which are consumed in half the world.
From the greenhouses in Almeria come tasty fruits and exotic crops from the Tropical Coast.
Traditional Gazpacho, a cold soup made with tomatoes, peppers, cucumber, bread and garlic is one of the most popular dishes in this area