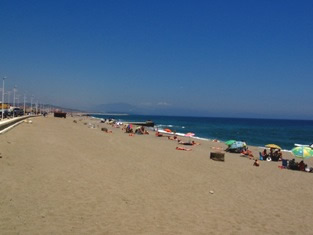 To the Gibraltar beach
Few minutes after 16.00 o'clock i drove to the highway in direction of La Linea de la Concepcion. Best beaches in Gibraltar lies before airport - Eastern Beach is the largest beach stretching for several hundred metres along the east side. From the sandy beach you can enjoy view to The Rock of Gibraltar. Most of Gibraltar's other beaches are at times deprived of sunshine by the shadow of The Rock, but Eastern Beach enjoys sunshine all day through until sunset.
I haven't had any trouble with guys on the custom house. At 16.15 o'clock i drove without any problems to Gibraltar enjoying view to the cloud above The Rock.
View to The Rock
The view from spanish side to the Gibraltar peninsula is just amazing: a big rock in the middle of a sandy beach. The rock is really strange because if you look at surrounding of landscape you cant imagine where from come it .
It looks like it grow up from the sand. And on the slope of this »rock« or hill, which is 423 meters high, lies town Gibraltar. Although the official language in Gibraltar is english and pay founds are pounds, they drive cars like people in Europe – at right side. For the time im not so sure, but i think it is the same as the Central European Time (CET). I wanted to see this view point Europa Point, where is also a lighthouse.
To the Europa point
The signs to the Europa point lead me very nice across the place behind hill and there were constantly signs for slow and careful driving. The signs are very usefull, because the roads are very narrow. I arrived to Europa Point in 15 minutes, there were a lot of tourists, shops for souvenirs and a restaurant, those two places were the only one on Europa Point which were close down, that suprised me, because the sun was still very high. But otherwise some of those houses were very neglected. The view was fantastic, almost on every side – you could see prety huge port of Gibraltar, which is one of the main source of income for native people here and also a very important place for the whole Mediterranean sea.
Walking through the streets of Gibraltar
Unfortunately i havent had luck to see Africa, because the skyline was little bit misty. I looked behind the hill and i was totaly suprised: not so far away from Europa Point there is a huge mosque with minaret – i did'nt expected that in a former english colony. As before, here was also in spite of sun, very windy. The only one who was selling something to the tourists was the old men with a old van, which was parked in the middle of the parking place and he sell from the side window some sorts of local original drinks.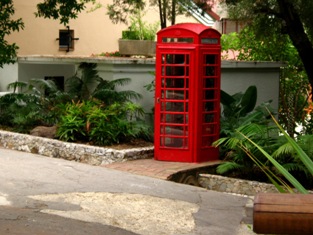 I was in a prety bad moode because everything was closed, so i buy one bottle of an orange juice, which i could pay in Euros, one bottle was 1 Euro. I drove back to the town on some other road and i was very careful, because roads are extremely narrow and it was very sheer so i drove in first gear.
    I came safe to the town and parked close the place for pedestrians. I walked down the nearest streets. And at 17.30 o'clock almost more than half of stores and shops were closed down, and the rest of them were just closeing. This suprised me again – and i asked myself when do they have closeing time?! I peep in some of the shops and i noticed that most of the sellers were Indian or Chinese people. I also saw some of the muslim women walking down the streets. And i couldent noticed nothing what was very cheap or very expencive. Presumably Gibraltar is know as the zone without customs, but you cant see that on the prices.
Otherwise i also saw some signs for interesting places of Gibraltar for example signs for Zoo, wiht some special monkeys, which are distinctive for Gibraltar, War museum, Botanical garden, »Upper Rock«, which means the top of the hill, where you must walk or go with a cable railway. I did'nt have intention for some more sightseeings, because the only reason to visit Gibraltar for me was pure curiosity.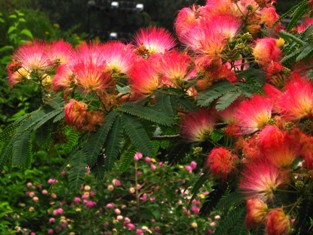 When i was leaving Gibraltar i didnt have any problems on the Gibratar custom, only on spanish side the customs officer asked me if i have anything to denounce it some cigarettes or alcohol. I just answer him that i dont smoke, but he didnt asked me more and let me to Spain. I was exceedingly satisfied. I managed to come to Gibraltar, which i allready written off, as on information in my tourist guide. And i also couldnt imagine what kind of place Gibraltar acutally is.