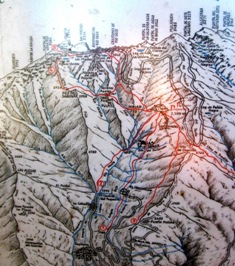 Where is Mulhacen - Sierra Nevada
Mulhacén, which rises to a height of 3478 metres and forms part of the Sierra Nevada
mountain range, capped in snow nearly year round. Extending approximately 75 km from east to west it crosses from Granada into Almeria province.

Mulhacen hiking
Walking has become popular in arrea arround Veleta, Mulhacen charming viligaes of Alpujarra - Bubion, Trevelez, Capileira and Pampaneira. There are several marked routes, all different lengths and catering to all abilities. You can choose a walk that take you to an area known as La Taha. The villages of La Taha are less touristed than the three of the Poquiera gorge but just as beautiful.
Mulhacen map - Sierra Nevada
Bubión, Capileira and Pampaneira villages; like most of the villages throughout the Alpujarra, the villages are still as the Berber settlers built them; two storey houses with characteristic flat roofs and stumpy chimney pots. For centuries, Alpujarran roofs have been constructed using launa, a crumbly type of clay found throughout the region, packed onto flat stones which have been laid over beams of ash or pine.
Bizarrely, the launa is only laid on a waning moon and never on a Friday in order for it to settle properly and therefore become waterproof - this maxim, although seemingly superstitious has been observed for generations.
Map of Mulhacen
There are many ways to get up Mulhacen and you must remember that area is extremly massif and vast. Orientation is pretty easy but when the fog is coming down you could be in trouble, so look for the weather condition because you walk on mountains over 3000 m high.
From the top we can see Las Alpujarras in the south, and the Laguna de la Mosca in the north, in a wild landscape.