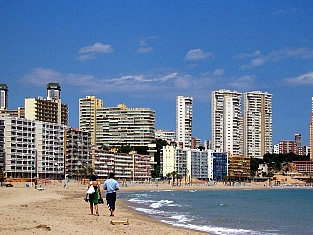 BENIDORM is one of teh biggest Tourist Resorts in Spain. It lies about 45 kilometers northeast from city of Alicante and it is one of the main attractions along the Costa blanca. Benidorm is famous for its great beaches and nightlife. The whole place is surrounded by up to 1558 m high Mountains.
Find out new thrills, fun and sun in Benidorm
In Summer time the City of Benidorm become one big party it has more than 30 Discos and over 1000 Restaurants. It offers you everything for great Nightlife. The City has also more than 35000 beds and over 200.000 apartments and otther accommodation places. Benidorm is very famous by British and Irish people, its like irish and british community.
Attraction in Benidorm
Very beautiful in Benidorm is Casco Antiguo this is the old Benidorm City center. Unfortunately there is not much left of old center, but you can see Santa Fez, San Lorenzo and San Vicente Streets mark, which are the rests of old Benidorm City center.
In history in Benidorm was just a small fishing village, the old part of the city is divided in two parts, that can be seen over the »Mediterranean Balcony« this Balcony was built over the castle. The Benidorm area is overtaken by many restaurants, discos, bars, but you can still see the old church and the history of the City.
Among the City center, Benidorm has two famous and nice beaches. The playa de Levante and The playa de Poniente are both 5 kilometers long. Along by Playa de Poniente you have main Benidorm road with heavy traffic. So if you are looking for a nice quiet Bath you should go to The Playa de Levante. In Benidorm Tourists can have fun with lot of Water sports such as water-skiing, diving, snorkeling and they have also great Golf Courses and Golf Resorts around the Costa Blanca. Other interesting Benidorm attractions are the different theme parks and holiday such as Terra Mitica, Aqualandia and Mundomar. All this parks offer you a great entertainment, fun and variety of attractions especially if you are on vacations with children.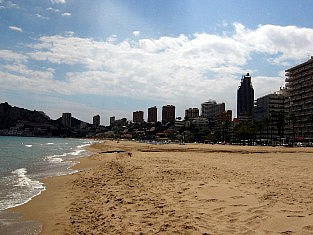 Explore surrounding of Benidorm
Hiking and Traveling around Benidorm and Costa Blanca is best made by Car. If you dont have a Car, you can Rent-a Car in Benidorm, there are more than 20 local Car Rental in the City. Also very recomendable is discovering Benidorm from the bike. In the city you will find lot of shops which are offering tourists renting Benidorm bikes. From your transport from the Airport to Benidorm city you can take a bus or taxi.
The city of Benidorm is probably one of the only place that has realy high concentration of enertainment and the highest selections of restaurants, taverns and pizzerias of all nationalities and prices in all Spain.
BENIDORM WEATHER The Benidorm Weather is widely known as one of the mildest along the Costa Blanca. The highest mountains around Benidor city are about 1600 m high and they are keeping the north winds away, so Benidorm weather has got in summer time mild temperatures and climate. And even in winter time in Benidorm average temperature does not fall below 19 Degree Celsius
Places to visit in Benidorm
It is a bit sad that Benidorm is not a typical place to go to visit museums and gallerys. People come to Benidorm to find fun, new thrills and sun.
The city is very popular by its seafront hotels and Spanish food, but also many families are impressed by great beaches that their children could enjoy to. The city government started adding with this new group of tourists new types of entertainment such as animal, theme parks and water parks.
Popular theme parks in Benidorm
Mundomar park
– This is the park known for its marine water life, like seals or dolphins. There you can visit beautiful tropical forest with exotic parrots and can enjoy different shows, or you can go on a trip with a glass bottom boat. The Mundomar park lies right next to Aqualandia park. Aqualandia park – lies right in the middle of the city. The park is known for all sort of water acctivities for all members of the family. There you can find caffes, bars, restaurants for eating and places for relaxation with hammocks and comfortable chairs. All pools have qualified lifeguards and there is also a first aid station for any emergency.
Terra Mitica Park
– This theme park is pretty new. The park is very exciting, because here you can travel back in time and see all the legendary civilizations that lived in Mediterranean Area. The thickets can be bought at the gate of the park, in banks or the department stores. This theme park is just a great place to let your imagination go wild.