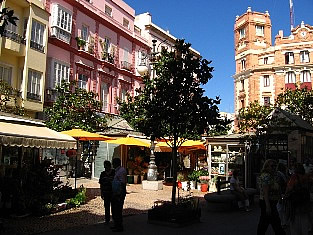 Cadiz climate
In summer time Cadiz is ideal to enjoy the beaches and other sport and cultural activities. The city of Cadiz has got due to its geographical location a Mediterranean climate near to southern European Atlantic Ocean. The average temperatures during the year are 18,1 degrees Celsius, this is typical temperature in the Mediterranean region, The hottest month of the year would probably be August with its 34,7 degrees Celsius, and a minimum temperature would be in coldest month of the year January around 9,9 degrees Celsius.
Cadiz has the typical signs of the
combined Atlantic and Mediterranean climates.
Cadiz is truly one of the most fascinating cities in Spain. The city is enveloped with glimmering white pristine beaches. There is no reason why every year, Cadiz hotels are always filled with tourists coming from the different parts of the world.
What to do in Cadiz:
See the Cathedral - It is much bigger up close than you think at first moment.
Climb the old watchtower Torre Tavira - try panoramic camera (camara obscura) showing 360º
Go to the beach until sunset, you should be enjoyed at Caleta beach.
Eat the fried fish