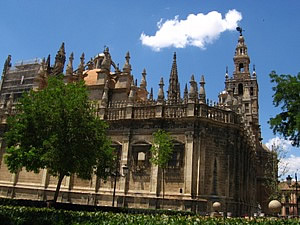 Seville - Andalusia
The Spanish coast has mutated into a hideous mish-mash of foreign owned skyscrapers. So where is the heart of Spain now? Inland, in the Andalusia province. And the largest, liveliest, prettiest, most interesting city of Andalusia is the capital. See Seville. Moorish? Definitely!
Seville is filled with amazing monuments and museums.
Royal Palace: The Alcazar or Palace is still used by Spanish royalty. This 10th century building is a wonderful tribute to Islamic architecture and a great counterpoint to Granada's Alhambra. The gardens and courtyards are great for a quiet stroll.
Flamenco Museum: The only flamenco-museum in the world, this one combines technology and history to provide great insights into this all-important soul of Spain.
Torre del Oro: The Golden Tower on the Guadalquivir River is a 13th century bastion that was once reputedly covered with pure gold tiles which reflected the brilliant sunshine of Seville. Originally built to control access to the river, it now contains the Royal Maritime Museum.
Charity Hospital: The outbuildings are famous for providing refuge and relief to the less fortunate. The church houses several notable artworks and paintings by Spanish masters.
Plaza de Torros: This 18th century bullfighting ring is the most famous in Spain, worth a visit only if you have a taste for blood and thrills! The museum that's attached to it provides bullfighting memorabilia, while the gift shop is great for souvenirs.
Sights and activities in Seville:
Lovely walks around the old
Jewish quarter
of Santa Cruz, full of tapas bars, picturesque alleys, glimpses of secret gardens, a Moorish palace, a gothic cathedral and many more grand, ornate buildings. Then there are promenades along the
River Guadalquivir
, buzzing with cafes and social action at night, with sights aplenty around there too. And when you've done with walking, hop into a horse cab [discuss the price first] and trot off to more sights in the north, headed by the spectacular
Plaza de España
. Or travel by water bus up the river...
In particular look out for Moorish architecture, bullfighting [most Sunday evenings April - Oct],
Flamenco
dance/song [originally Andalusian], and Andalusian cuisine.
Seville cuisine guide

Andalusian cuisine differs from the rest of Spain due to the enduring Arab influence, using spices such as cumin, paprika and saffron, rice, cured hams, sauces made with sherry, and lots of olives and citrus fruit.
Gazpacho, a chilled raw vegetable soup originated in Andalusia, as did Tapas - varied small dishes to go with drinks [grilled sardines is a favourite], often enough to replace dinner, which is good because the city lacks outstanding restaurants.
The Santa Cruz area has many Tapas bars and atmospheric little restaurants, as has the opposite bank of the river [many outdoors].