Look out over the Atlantic Ocean from this magnificent beachfront destination, located on the beautiful La Plata Bay to the south of Cádiz.

Buildings are built in a typical Andalusian style, on secluded location for a relaxing beach holiday. It boasts direct access to the fine, white sands of La Plata Bay – known as one of the best beaches in the region.
Enjoy accommodation of Andalucian hotels near Atlantic ocean. There are modern and spacious hotels with large open areas, including the gardens and swimming pool. The hotels also boasts spa centres, Thai Zen Space and ...

Its convenient location near the Costa de la Luz means you can easily discover the untouched beaches of the peninsula and also practise some of your favourite sports.

Enjoying wonderful panoramic views of the sea, apartments occupy a privileged position on the cliffs of Conil.

Look out over the sea and breathe in the fresh air from your clifftop location, south-east of Cadiz. Enjoy the area's beautiful sandy beaches which stretch their way along the coast. The town of Conil is 1 km away, where you can find a selection of bars and restaurants where local cuisine is served.
Gibraltar Climate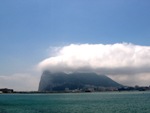 The climate of Gibraltar is certainly Mediterranean. The winters are mild adn summer preaty hot . Gibraltar enjoys all year round sunshine tempered by the cool breezes from North Africa.Two winds embrace The Rock, each bringing different meteorological characteristics. The wind from the east brings a humidity that sometimes covers the top of the rock with cloud, and the wind from the west brings clear and dry weather.
In summer the temperatures moves around 30°C. If you are travelling to Gibraltar during winter months pack for air temperature of around 13º C and highs that could reach 18ºC.