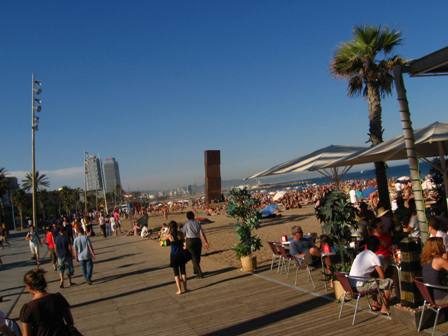 The capital of Catalonia - Barcelona
Barcelona Spain is the capital of Catalonia, it has around 1,58 Million inhabitants. This region has its own language, character and history, also many Catalans think of their home as a separate country.
The city of Barcelona itself could keep you occupied for weeks but outside there are sandy beaches, Montserrat mountain range and Sitges. Barcelona is one of Spains most cosmopolitan city. Clubs, Restaurants, bars are always full, as is the seaside in summertime. At first sight the city looks like a hedonistic place but in reality it is a hard-working and dynamic place. Barcelona is also known for one of the Mediterrraneans busiest ports and hopes to place itself in the vanguard of 21st-century Europe with a heavy concentration of Hi-tech and biomedical business.
Montjuic and Tibidabo - Barcelona
Montjuic
is the lowe of the two, and begins about 700m southwest of the bottom of La Rambla.
Tibidabo
with its TV tower and statue of Chirs, is 6km northwest of Palaca de Catalunya.
It is the high point of the Collserola range of wooded hills that forms the backdrop to the city. El Prat airport is 12km to the southwest of central Barcelona, although judging by the transport options and interminable road-works you could think it was light years away.
Architecture art of Barcelona
It also very famous for breaking ground in architecture art and style since the late 19th century. From the marvels of Modernisme to the modern wonders of today. Famous artists of Barcelona are for example Picasso to the likes of Susana Solano. The city is very avant-garde . It regards its long past with pride. From Roman town it passed to medieval trade juggernaut, and it sold centre constitutes one of the greatest concentrations of Gothic architecture in Europe. Beyond this core are some of teh wolds more bizarre buildings like: surreal spectacles capped by Antoni Gaudi's La Sagrada Familia church.
Coast of Barcelona
Barcelona's coastline runs roughly northeast to southwet, and many streets are perpendicular or parallel to it. Ciutat Vella are a warren of streets, centuries old buildings, restaurants, bars and hotels spreads either side of La Rambla. Its heart is the lower half of the section east of La Rambla. Port Vell (Old Port) has a great aquarium and two marinas.
At its northeast end is La Barceloneta the old sailors and former industrial workers quarter, from where you can see beaches and pedestrian promenade. You will find most of Barcelonas singular Modernista architecture, including La Sagrada Familia. Two good landmarks are the hills of Montjuic and Tibidabo.