Elche, Elx - city of palm trees
The most attractive part about Elche is its impressive history. Thousands of people visit it every year, fascinated about the fact that Elche is one of those cities inhabited since 5000 BC. The Neolithic Age was the one in which the first establishments appeared around Elche and it all continued with Bronze Age.
Palm tree orchards are the most characteristic feature of the urban landscape of Elx. The surround the city like a huge green belt two km long and one km wide. The sheer quantity of palm trees here numbering around 200.000 make the city look more like a forest when seen from the distance.

Palm Groves of Elx
Yet the Palm Groves is not a natural forest, but rather a cultural area which is as rational in its design as the gardens of the Renaissance, originaly created for agri-cultural productin, and owing much to the complex system of irrigation used to water the whole area.
Although it is probable that palm trees grew in this area in remote times, it was the Moors who came to Spain and called it Al-Andalus who originally planted and nourished them; using techiques derived from the oasis cultures of northern Africa and the Middle East. Moorish farmers of course were experts in taking advantage of minimum amounts of water in their desert lands.
The largest Palm Groves in Europe
The orchards are actualy trapezoidal or square terraced plots on whose borders the palm trees would be planted in single or double files always coinciding with the layout of the irrigation channels.
These layouts acted as screens that preserved crops from the sun and wind. As a result intensive farming was carried out on various levels (crps under the date palms, fruit trees and herb gardens).
The original village of Elche was in the centre but was in the way of ideal cultivation, so the centre was moved further north and the now biggest collection of palm trees in Europe exists there. You can still see the original of Elche surrounded by palm trees that have turned almost into a forest over the years.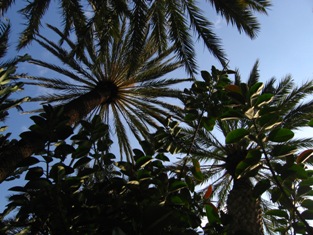 The
largest Palm Groves
in Europe, northrnmost oasis in the Mediterranean has attracted many famous people throughout history. Among all the orchards the most famous is undoubtedly the
"Huerto del Cura
". This artistic gardenhas had a long list of illustrious visitors - politicians, writers, scientists - who have all succumbed ti its beauty. This must have happened to the Empress Elisabeth of Austria,the celebrated Sissy, who visited the
"Huerto del Cura
" in 1894 and was so impressed by the seven-branched palm tree that she commented to the proprietor that this palm had the power and strength of an empire. The chaplain at the time by the name of Castano, decided to call this tree the "Imperial Palm Tree" folowing her visit.