Next to the Cathedral of Seville we can visit Reales Alcazares. It was the first royal palace in Seville formed by a series of smaller palaces, which is why its often referrd to in the plural »Reales Alcazares.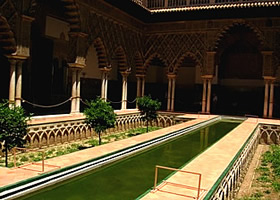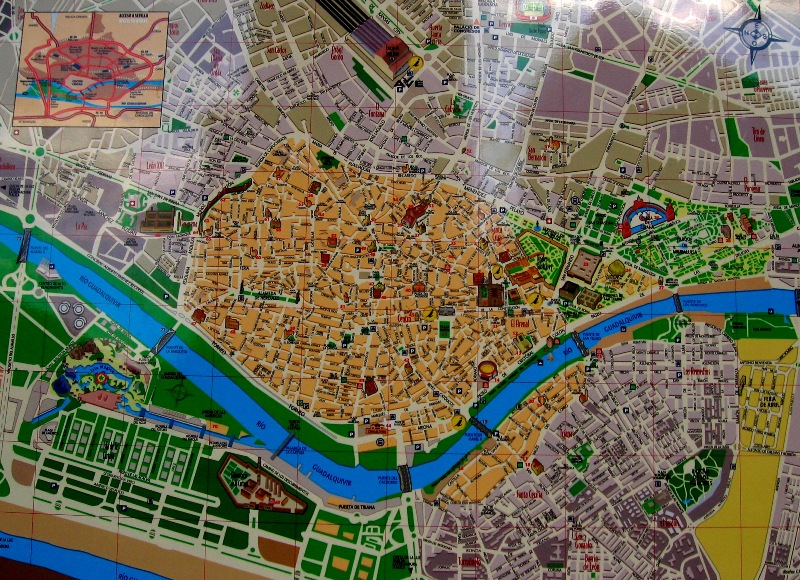 <
Seville - enjoying in royal garden El Alcazar de Seville
The Alcazar Palace has been a seat of power and a royal residence, in fact, it remains teh official residence of the current royal family. Inside examples of Moorish architectur are mixed with gothic, renaissance and baroque elements. The gardens are also beautiful, where the gentle murmur of the water and teh smell of teh flowers create a paradise atmosphere.
Al Raman
Al Raman ordered the construction of this fortified palace in 931 AD. The Alcazar comprises a series of palaces which are the most important example of
civil architecture in Seville
. In the interior, the outstanding palace grounds, gardens and servants quarters are spread over an area enclosed by walls on the south side of Sevilles Historic City Centre. Rather than an architectural unit, the Alcazar has an intimate atmosphere created by an intermingling of Muslim artistic elements with others from the Gothic, Renaissance and Baroque periods. The most striking contribution by Pedro I was the reconstruction of the older parts of the Abbadi Alcazar and other early palaces.
Alcazar palace
Alcazar palace is a part time residence of the Royal Family, and it is the oldest Royal Palace used in Europe. Noteworthy as it is it not mererly a singular palace but a series of palaces, the product of successive reforms that took place since the Arab occupation. Thus these grounds bring together a perfect symbiosis, a succession of architectural styles, from Islamic to Neoclassical, incorporating Mudejar elements, Gothic, Renaissance, Plateresque, Purist, Baroque and Rococo; all contributing to the magnificence of this landmark. They are present at its beautiful gardens, patios, rooms and tapestries.

Peaceful gardens of Alcazar
Peaceful gardens with flowers and plants that recreate a heavenly setting are adjacent to the palace courtyard . One can appreciate glimpses of islamic, classical and modern environment with the Doña María de Padilla baths, statues of Mercury and Arbour. The New Garden section are modeled after English and Arab-Andalusian llandscaping. There is a cultural program which frequently offers events of all types and being one of the richest in the city.
Inside of Royal fortress
Alcazar – Inside Royal fortress are a lot of fascinating rooms, corridors and courtyards inside the Fortress. You'll get impressed since you join the palace from the Lion gate. Going straight we arrive to Hunting Courtyard and then to the Mudejar Palace, where there are some of the rooms I show you here (Courtyard of Maidservants, Ceiling Room of Charles V, Ambassadors Room, King's Bedroom, Dolls Courtyard, Ceiling Room of Philip II and Infante's Room) all of them in Mudejar style. The other parts are the Gothic Palace (where this tapestry is found), the Court Room, the China house and two more courtyards.