Weather in Granada
If you realy want to enjoy Granada go there in spring or autumn. It is not hot, the colours are increadible and it is not neccesary to carry the umbrella with you. Granada has a hot summer ( it can be over 35ºC ) and with rain concentratead between October and February.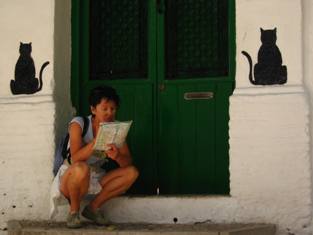 What's the weather in Granada:
Weather in Granada is typical mediteranean - cold but pretty mild winters and hot and humid summers. The temperature in coldest months December, Januar and February drop down to the 0ºC to 10ºC (30ºF- 40ºF) in the winter and may occasionally get colder. Keep in mind that most homes in Granada do not have central heating. Don't be surprised if you find your neighbor walking around the house in heavy clothes during the winter (of course your warm clothes stayed at home).
Summer months especial July and August are hot but it is not an uncomfortable heat because of the low humidity.
In general the weather in September is quite pleasant and sunny, with day time temperatures reaching about 20-25ºC. The evenings, due to Granada is positioned in the proximity of the Sierra Nevada mountains, can still be fairly cool and about 15ºC.