I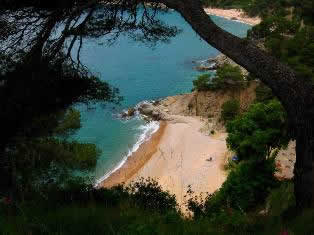 If you want to visit Cala Levado you must go around 35 km from airport in Gerona, and drive with a car to »St. Feliu«, after 20 km you must go to »Tossa de Mar« and now just follow the directions to »Tossa de Mar«. After 12 km, you will come on a meandering road who leads you through the woods, now you finally come to »Tossa de Mar«.
Where is Cala Llevado
There is a sign to »Loret de Mar«, so you must go straight up to hill and in 3,5 km there is on the left side a camp »Cala Llevado«. And the next on the left is the entrance to the urbanisation »Sta. Maria de Llorell«.
If you are in Barcelona, you must go from airport in barcelona 75km with a car to »Gerona«, then you come to »Lloret de Mar«, just follow the mark to »Tossa de Mar« through meandering road up the hill. Instantly after the highest point towards Tossa, you will see on the right side the entrance to the residential area of »Sta. Maria de Llorell«.
Camping place of Llevado
Around 3 km before Tossa del Mar i noticed by the road sign for a camping place »Cala Llevado ***«, there was also well lightet roadside restaurant. I sweepted on the narrow road towards the sea. In the reception was guard in the fur-lined jacket (!), he pick up my data and my passport. But after checking in i didnt went to raise up my tent, but turn back to the main road, where stood the restaurant. The restaurant was on the first floor and i had a filling, that they were allready closeing down. Weary waiter told me that, as long they have guests in the restaurant they dont close down the place. I ordered some pork meat and french fries.
I got three nice peaces of pork without bones, grilled on the grill, and drank orangeade from a tin, that costed me around 8 euros. When i came back to the camp, i found out that he lies in the sheer terraces. Among that, there was a lot of lamps by paths, which are usually disturbing with their light. I finnaly disided for a place with a view on the bay under the camp.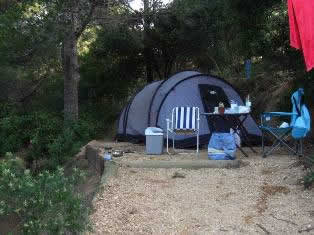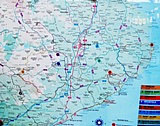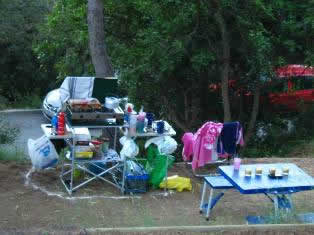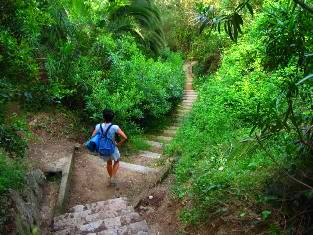 The sanitation in the camp were really very nice and perfect. In the shower cabines were also separated rooms for clothes, one handed mixed batterys with handed mixation, warm and cold water and the showering time was unlimited. I really enjoyed that. Nice and clean were also the toilets. Washbowls had one handed batterys and equipped with huge mirrors. Everyting was in white colours, also the walls, who were in white ceramic lamellas, it was just great. And it was suprisingly fresh. But the most important speciality of the camp was really blessed peace – you could hear just delicate wave motion of the sea with a beautiful sight on the sea coast.
Lloret de Mar
A beautiful holiday resort called »Santa Maria de Llorell« lies only 60 miles between the mediterranean town Lloret de Mar, which is about 60 miles after the French border and a place called Tossa de Mar, this is a beautiful town with a castle, only 2 miles away). There you can find a lot of villas and houses which are privately owned. In those villas and houses, which are well kept on the green hills are living a lot of people different nationalities like British, French, German, Swiss, Belgians, Dutch, beside villas are usually also nice sandy private beaches.
Even in mid summer there is a steady wind coming down from the Pyrenees and cools the whole area down very nicely. There is allowed only for cars with a sticker to enter the guard to fenced community, so the situated private sandy beaches between trees and rocks are never overcrowded. During high seaseon is Sta. Maria very crowded so you can call yourself very lucky when you can find an accommodation here. Sta. Maria is one of the most popular holiday resorts for families during high season in the Costa Brava. There are so many thing to do for example you can enjoy sailing, windsurfing, boat trips, fun activities water-skiing and other diving possibilities (the equipment for sports can be rented). Pople who love to snorkeling will here find plenty of beautiful places around the tiny island and rocks. Many beach restaurants offers you a reasonably priced cool beers, snacks, other activities and billiard tables. The place has got also four tennis courts and a supermarket which is close to the entracne of the community, and near the camping place is also a swimming pool and a disco club which is open in the evenings. For medical care is also attended, they have an English speaking doctor during the summer in Cale Llevado. If there is something you cant find in our store, or it is closed, you can still visit the one at the camping place, which is well stocked, there is also a nice restaurant, with a moderate priced food and meals.
Tosa de Mar
The name of Tossa de Mar is often the »Blue Paradise« or »Pearl of the Mediterranean«. It is despite being affected by tourism one of the few small towns that has kept its identity and flair. The wide bay with nice sandy beaches, deep blue sea and the open-minded and hospitable people with a beautiful town »Villa Vella« will fascinate everyone who will visit that town. Also very nice place for a visit is one of the best preserved castles in Spain, where you can enjoy a very romantic surrounding of the old times and interesting restaurants. You can also take a trip during the main season on a glass bottom boat, or take a trip with a parasailing which is more suitable for those who loves adrenalin and adventures. With its buzzing and wide beaches in summer is Lloret de Mar indeed for the active ones. The place offers you plenty of ohter activities, sports, a lot of disco clubs. Lloret de Mar is during the weekends very crowdy, so you must be prepared for a lot of hold ups and for annoying traffic. Lloret de Mar provides also the »waterworld« whit a lot of various fun basins and its water slides, a go-kart-track, and two 18-hole courses for golf, where all the golfers from all abilities can really enjoy on their holidays.