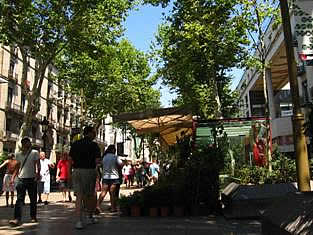 Famous boulevard of Barcelona
The famous, boulevards of Las Ramblas are a great place to get the real feeling for Barcelona. It's a great place to take a coffee and to watch people passing you buy, but when you realise that most of the people are just tourists like yourselves it kind-of looses its appeal a bit. When you walk
The further you go down the Ramblas to the Waterfront the more artists, restaurants, street vendors, kiosks you'll find, but they are all pretty expencive toward the tourist Euro.
Mimes and other street artists of La Rambla
Mimes actually make Las Ramblas a very special destination with Barcelona, as well as a tourist must sea spot. This is a good place to shop souvenirs to take home.
Barcelona's Boqueria market has become a very special place for food-gourmets from around the world. But Boqueria is not the only market in Barcelona, almost every place in Barcelona has its market. Some are very different and mostly they are pretty stored up with goods and products from all over the world.
It is also good to poke into smaller stores too, because tourists can also chat to shopkeepers about everything, for example about ingredients for recepies and also ask the owner about interesting things locally. if you ask for a culinary advice or a recipe they are very glad to give you a recipe or advice.
Famous market in Barcelona – La Boqueria
The market La Boqueria is also known by the name Mercat de Sant Josep (Market of Saint Joseph), this is the most famous market with fresh food from all over the world in Barcelona. The stalls on the market are full of varicoloured fruits, vegetables, meat and sea-fruit such as different sort of fish and shells from all over the world. Most of saleswomen and salesmen are wearing traditional aprons, which gives you a very homely feeling.
Among the rich offer of the food you can watch a very eager interaction between sellers and buyers. For the moment you get a filling they all know each other, but thats almost impossible. Spanish people just like to talk, always and everywhere. On market La Boqueria are also a lot of tapas stalls. There you can try a very good sea food by cheap prices. You can have a very delicious lunch in Kiosko Universal.
A useful tip: In the cellar at the end of the Market you can find a free public toilet.
History of Barcelona
History Barcelona Spain – The historians dont know for sure, but it is thought that Barcelona may have been founded in 230 BC by the Carthaginians taking the surname of Hamilicar Barca – Hannibals father. Barcino – Roman Barcelona was covered an area withind todays Barri Gotic and was overshadowed by Tarraco, which is about 90km to the southwest. In the wake of Muslim occupation and then Frankish domination Wilfrid the Hairy founded the house of the Counts of Barcelona in 878 AD. In 1137 RAmon Berengeuer IV married Petronilla, heires of Aragon, creating a joint state and setting the scene for Catalonias golden age.
The accession of the Aragones noble Fernando to the throne in 1479 augured ill for Barcelona, and his marriage to Queen Isabel of Castilla more still. Catalonia effectively became a subordinate part of the Castilian state. Anarchy, Modernisme and Civil War – The 19th century brought economic resurgence in Barcelona. The industries like wine, cotton iron and cork was in its high development. Modernisme was the most visible aspect of the Catalan Renaixenca, a movement for the revival of Catalan language and culture in the late 19th century.
Within days of the formation of Spains Second REpublic in 1931, Catalan nationalists led by Fransesc Macia and Lluis Companys proclaimed Catalonia a republic within an imaginary »Iberian Federation«. For nearly after Francos rise in 1936, Barcelona was run by revolutionary anarchists and the Partido Obrero. The city fell to Franco in 1939, and there followed in a long period of repression. The big social change under Franco was the flood of immigrants, chiefly was Andalucia attracted by economic growth in Catalonia. Three years after Francos death in 1975, a new Spanish constitution created the autonomous community of Catalonia.