Cadaques is a beautiful mediterranean Spanish sea side village near French border. Lots of tiles and white houses decorating them. Cadaques is a village for people who likes to explore unusually things, to admire incredible scenery, enjoy the sunshine and relaxation.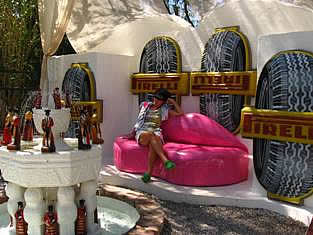 Cadaques - small village on Mediterranean coast
Salvador Dali lived close by Cadaques in a very interesting house, on his roof had big sculptued eggs. It was similar to his museum in Figueres. The village is close to town Port Lligat, which is also the location of Salvador Dalis summer home, and it is also made into museum. The road from Pubol to Cadaques takes longer than the whole journey from Tosa De Mar to this point, because you must go over a mountain.

Museo Dali in Port Lligat - Cadaques
n Port Lligat we can find the Casa Museu Salvador Dali - which was Dalis studio and home for decades. At that place Dali created many of his magnificent works. Dali bought siple shack in 1930, and in four decades he created this shack into a great labyrinth of magnificent rooms. The most interesting thing about Dalis home is that how normal it is. The only exeption is the giant polar bear which stands in the foyer. The most of enterior of the castle he bought later for his wife Gala.
Salvador Dali art
One of the most fascinating rooms in the house is for sure Dalis studio. Around year 1931 most of his works were created here, such as the famous painting The Persistence of Memory.
Interesting is also that the studio is very small and has very comfortable position for the artist. The window in the studio has also very extreme importance, because the sunlight comes through glass and reflects shores of the Mediterranean which are only few meters away. The view of this window has formed the background for many of Dalis most famous works and creations. For example works like The Weaning of Furniture-Nutrition, The Specter of Sex Appeal and Dali Nude are just few of them who were influenced by his studio, the window and the whole Mediterranean atmosphere. The next area is pool, which is shaped like a set of male genitalia, but the shape could be seen only by viewing it from above.
Port Lligat - Dali's summer house
There is very little information given about the experiences of Dalis summer house. You will only get readings from note cards by tourist guides. Pool and kitchen area dont need much of explanation, but other parts of the hose sure do.
Guides are aslo not able to provide immediately the information about Sleeping Rock which is the local geological formation painted by Salvador Dali. Guide books are available, you will need about 40 minutes to be through the whole place and rooms in Dalis summer house.
While sight seeing Dalis house you can also walk down the stone pier and see all the strange and interesting sculptures that fishermen have created on their boats. A tiny dirt path at the end of the pier will take you up into the hillside where you can look down on the beautiful bay.
Useful information: Casa museu - Castell Gala Dali Pubol
Opening hours: From June 15 to September 15: 10:00 - 20:00 open every day without exception Address:
Casa-Museu Salvador Dali 17488 Port Lligat (Cadaques)
Tel: 972 25 10 15 Fax: 972 25 10 83
This path is well-trodden, but it is not under museums property. While you walk on this path you can admire great view af the Salvador Dali estate. Along the path you can find also a small stone monument that has Salvador Dali name cut into the stone, and there is also a mysterious back door from the Dalis property that leads down on stone stairs and cliffs to the sea.